Adrian Beck (text) and Scott Edgar (illustrator), Derek Dool Super Cool: Bust a Move, Puffin Books, March 2020, 256pp., RRP $14.99 (pbk), ISBN 9781760892951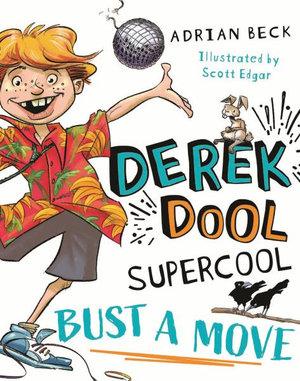 Derek Dool Supercool: Bust A Move is the first in a new series by Australian author, Adrian Beck of Kick it to Nick and Champion Charlies fame. 
Derek Dool thinks he's supercool. Unfortunately, the rest of the world thinks he's a different 'ool' word — one beginning with a 'T'. Still, Derek is convinced the entire planet just hasn't appreciated his incredible awesomeness – yet. That's why he's determined to bust out some moves at the school disco and show everyone exactly what type of amazing kid they are dealing with, especially Cruz Carmichael, his archenemy. With his loyal friends Big Denise and Booger by his side Derek hits the school disco with everything he's got. Luckily, it's not enough to cause anyone seriously injury and it is does turn out to be a night to remember — but probably not for the reasons Derek was hoping. The disco also gives Big Denise and Booger a chance to shine and even Derek learns a thing or two about friendship, well, maybe for a fleeting moment, anyway.
It's interesting to read a book where I'm pretty sure you are not supposed to like the protagonist. At least I don't see how anyone could like Derek. He is self-absorbed, mean to his friends and just plain gross. In contrast, his friends, Big Denise and simple Booger, slowly reveal their hidden depths and are hard not to like. The best way to describe this book is that it's about an anti-hero. In most books, you want to be the protagonist, but in this case I'm pretty sure the idea is that you most certainly do not and more than that, you learn to appreciate how Derek's behaviour affects those closest to him. There are some hints that as the series progresses, Derek might slowly change and become more likeable, but we'll have to wait and see!
It you know a child who appreciates gross-artistry — I'm talking snot, warts, butt jokes, more snot and just plain disgustingness — then I'm pretty sure they will enjoy this book. The book is also peppered with some great 'Bad Dad jokes', revealing 'Bonus Chapters' and two crows Gilbert and Gertie who provide unique insight into the situations Derek and his friends find themselves in. (At the risk of showing my age, those crows remind me of the two judges from the Muppet Show — Statler and Waldorf!)
Heavily illustrated by Scott Edgar (some of his drawings are hilarious!) and peppered with interesting typography, the book is super visually appealing to kids. 
A humorous, Aussie read, Derek Dool should appeal to reluctant readers aged 8+ who have enjoyed Middle School, WeirDo and Timmy Failure.  
Reviewed by Renee Mihulka