Brigid Kemmerer, Defy the Night (Defy the Night, #1), Bloomsbury, September 2021, 496 pp, RRP $16.99 (pbk), ISBN 9781526632807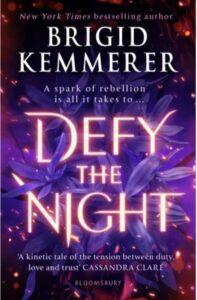 Defy the Night is a lengthy yet powerful novel covering many bases from rebellion, betrayal and cruelty to justice and romance. The few plot twists are well foreshadowed and although there are a few clichés and tropes, like 'the morally conflicted prince who does not want to be cruel', Defy the Night is still an engaging read. Kemmerer writes well and has a knack for storytelling. From the very start, readers are hooked. Despite there being over 400 pages, this book does not feel long at all.
Kandala is a kingdom plagued with an illness where lonely streets house desperate, poor villagers. Moonflower is the only cure for the sickness, but this rare and expensive flower can only be afforded by the rich. The young King and his brother, who are thrown into the spotlight following the shocking assassination of their parents, are merciless and rule with an iron fist.
In the Wilds, Tessa Cade is an apprentice apothecary who risks her life every day attempting to right the wrongs of her government. Donning a mask, she steals from the rich and distributes the Moonflower to the poor, along with her friend Weston (Wes). These two have a sweet relationship that comes as a relief in such a dark book.
Prince Corrick is the King's Justice. He has the responsibility of enforcing the law and maintaining order in Kandala. He also happens to dread the violent acts he has little choice but to perform if he wants to guarantee a compliant kingdom, "despite all outward appearances, I'm not cruel. I don't delight in pain. I don't delight in any of this."
Rumours that the cure no longer works begin to circulate and a growing rebellion results in even crueler actions from the King's Justice. It quickly becomes apparent that the only way for Tessa to save her people is to assassinate the King. Tessa embarks on a deadly mission intended to get her inside the palace walls and amongst the people she hates most of all.
Kemmerer draws inspiration from Robin Hood, stealing from the rich and giving to the poor, and writes a strong and intelligent female protagonist. Defy the Night is a gripping read that will not disappoint.
This novel is recommended for young adults due to some heavy themes. Readers who enjoy a bit of fantasy, adventure, rebellion, and romance should give this novel a go. Fair warning, the violent acts are quite graphic.
Reviewed by India Boon