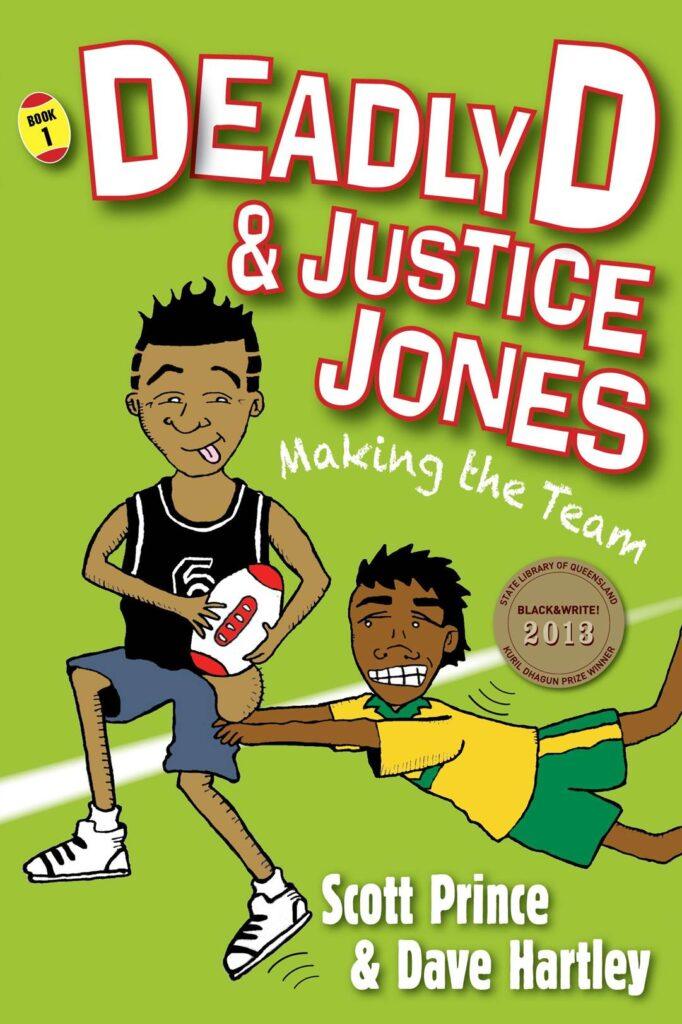 PRINCE, Scott (text) Dave Hartley (text and illus.) Deadly D & Justice Jones Book 1: Making the Team Magabala, 2013 127pp  $12.95 pbk ISBN 9781922142184 SCIS 1626729
This is the first book in a planned series by Broncos Rugby League star Scott Prince (a Kalkadoon man from Mt. Isa) and award-winning Queensland teacher Dave Hartley, of the Barunggam people from the Darling Downs/Chinchilla region).  It was developed through State Library of Queensland's black&write!  indigenous Writing Fellowship Competition.
Dylan is eleven, aboriginal, and a talented Rugby League player.  When he and his widowed mother move to Brisbane from Mt.  Isa, he is understandably reluctant to leave his familiar home, school, friends and footy team.  His introduction to his new school is interesting – on his first day he saves his Maori classmate, Justice Jones from the school bully, Jared Knutz, and makes a firm friend.  Dylan has a secret – when he's angry he morphs from a skinny boy into a large, muscular, hairy, very strong man, ripping his clothes and bursting his shoes – very Hulkish in fact and much to his mother's exasperation.  She has taught him various anger-management techniques which are mostly effective, but the real antidote is immersion in water – not always available.  Justice, however, has seen the transformation and he becomes Dylan's ally.
Dylan's second test comes on the class excursion to view a Bronco's training day, boy heaven!  Tormented by Jared, Dylan's alter ego bursts forth, impressing the Bronco's coach with his speed and strength and he is offered a place on the team.  Justice christens Dylan 'Deadly D' and appoints himself his manager, helping engineer Deadly's appearances by ingeniously manipulating Dylan's anger.
This is a sturdy, well designed paperback aimed at reluctant readers.  Sentences and chapters are short and the text is well spaced and enlivened by the strong black-and-white illustrations.  The story is told in the first person, by Dylan, in simple colloquial language with much humour and many boy-jokes.  Family values are strong and home life is warm and hospitable; the characters are believable, often entertaining and (mostly) sympathetic.  There is a lot of vigorous action, on and off the footy field, and real sporting heroes do appear.  There is a short glossary 'a few deadly notes' humorously explaining some of the terms and expressions used, notes on the authors, and some information on the black&write! project.  Teacher notes are available from Magabala.  Recommended for footy-mad boys, 8+.  JS