Ben Brooks, Dare to be Different, Hachette Australia, March 2022, 208 pp., RRP $39.99 (hbk), ISBN 9781529416244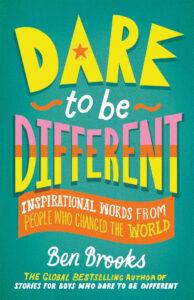 Dare to be Different, written by Ben Brooks, is a compilation of stories about the most successful and inspiring people I've ever heard about in my life. My first impression of this book was quite the opposite of what I feel about it now. When I first felt how heavy it was, I dreaded even opening it. However, these feelings quickly dissipated when I flicked to a random page, and surprisingly found a sports star I liked and had been following for a while now.
Finding this random page made me eager to read the rest of the stories and see who else I could discover among the many inspirational pages. When I tell you there's something in here for everyone, I am not exaggerating. From famous actors to bias-breakers, and even ancient philosophers, this book truly depicts a whole range of people who dared to change the world.
Coming from a diverse background myself, representation definitely matters, and this book is something I know I would've wanted to read when I was younger. Simply skimming through the pages depicting people from a range of ethnicities, from different times and countries, allowed me to see what a culturally rich place the world is, and I felt connected and seen.
The only problem with the book is that for its target audience of 9-11 year olds, there are a lot of words and a formal tone that might turn some children off. But hopefully, this format of book is now familiar enough so that young readers might take a chance to pick it up and find people they like, which would be an incentive for them to explore further.
Reviewed by Amie Nguyen