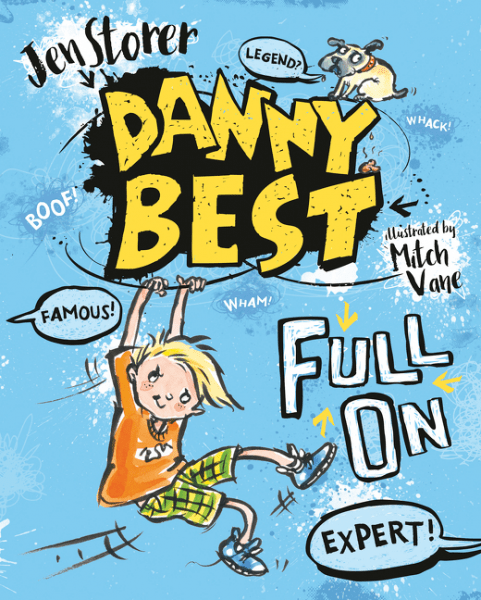 Jen Storer (text), Mitch Vane (illus.),  Danny Best : Full On (Danny Best #1),  HarperCollins Australia,  1 Oct 2015,  320pp.,  $16.99 (pbk),  ISBN: 9780733333330
Danny Best: Full On is a wonderfully funny new collaboration between Jen Storer and Mitch Vane, both of whom have a great sense of timing and slapstick. Vane's illustrations are used in a clever and opportunistic way, adding visual intensity to Storer's humorous text.
The stories capture the idealistic childhood we all either had or long for in our children's lives and are packed with cheeky tricks, wacky ideas and imaginative scenarios the gang cook up. I particularly enjoyed the setting in the backyards and laneways of suburban Australia—it reminded me of the world of Fatty Finn and Ginger Meggs.
All the characters of Danny's gang are cleverly drawn (both through text and illustration) and in particularly the antics and expressions of Danny's dog Pugsley had my son and I laughing out loud at several points in the book.
A delightful addition to the collection of books my 8 year old son is independently reading at the moment, (The Treehouse series, Weirdo, Tom Gates etc.) Danny Best is definitely one of the best!
A Teaching Guide is available on the HarperCollins website.
Reviewed by Amanda Tarlau