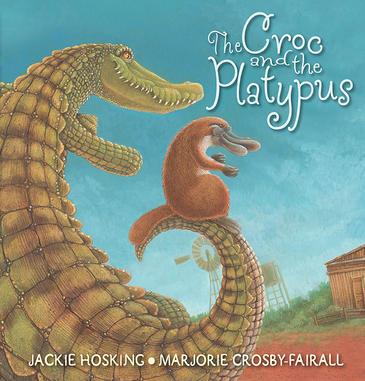 HOSKING, Jackie (text) Marjorie Crosby-Fairall (illus.) The Croc and the Platypus Walker, 2014 unpaged $24.95 ISBN 9781922077608 SCIS 1664140
The Owl and the Pussy Cat went to sea in a beautiful pea green boat….  What?  No, that's not right.  'The Croc and the Platypus trundled off in a rusty old Holden ute.'  That's better.
Jackie Hosking has reworked the old Edward Lear nonsense poem into an Australian context complete with Holden utes, Cockies, sheep shearers and Uluru.  The danger in revisiting the classics is appearing overly derivative, which can detract from an otherwise excellent text.  Jackie Hosking has not done that here.  The text has a lyrical quality about it which not only resembles the poem by Lear but also creates her own sensibility.
The illustrations in this book are extremely atttractive.  The main characters, although anthropomorphised by the text, appear naturalistic and attractive.  The attention to detail is very impressive and there is much to find for a young reader in the background of the illustrations.  When the platypus and the croc appear at the wool shed, however, the poor old shearer looks as if he's had the fright of his life.  Suitable for pre school aged children and up.
reviewed by David Murphy