Nadia L. King (text) and Alisa Knatko (illustrator), Claire Malone Makes a Friend, Dixi Books, October 2021, 32 pp., RRP $24.75 (pbk), ISBN 9781913680268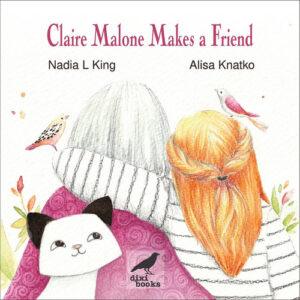 This moving tale reads like a fable and begins during the time when children stayed inside everyday. Set during one of the many COVID-19 lockdowns, it tells the story of Claire who watches people in their windows from her own window. The observant and caring Claire is concerned about the person who lives in one apartment where the curtains stay drawn and makes a sign which she displays in her own window Are you okay?
From here, Claire becomes friends with a lonely old lady, Mrs Ong. Claire draws a picture for her, Mrs Ong shares a recipe, Claire sends over a pack of seeds, Mrs Ong knits her a hat and so on. Interestingly, the story concludes with the characters still locked inside their own worlds but anticipating the day they can come together for a picnic in the park.
This story could be used to help children talk about lockdown and the combined trauma our society has experienced as a result of the pandemic. It encourages kindness, emotional maturity, and acceptance of difference. Some children will still be scarred by the experience of lockdown and might be suffering social anxiety as a result. This book could be a valuable tool for therapeutic discussions.
Reviewed by Heather Gallagher