Cameron Macintosh (text) and Dave Atze (illustrator), Chip Blip (Max Booth Future Sleuth #5), Big Sky Publishing, July 2020, 130 pp., RRP $12.99 (pbk), ISBN 9781922265685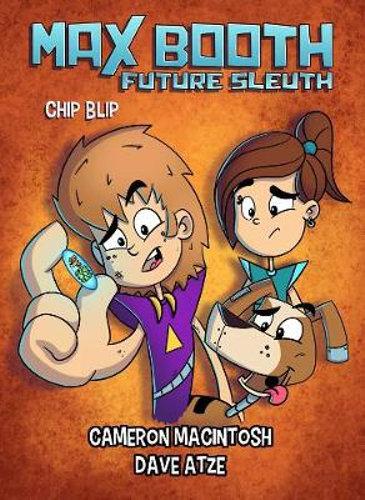 Max Booth Future Sleuth by Cameron Macintosh is a story about street urchin Max, a boy from the future who solves mysteries from the past. In the year 2424, Max lives on Skyburb 6 above Bluggsville, in the back room of a museum with his robo-dog Oscar. In Chip Blip, his 5th sleuthing adventure, Max and Oscar try to unravel a mystery surrounding a device from the past no bigger than a grain of rice. After some clever costuming, Max discovers that the device is an ID chip from a dog that was famous 400 years ago and even more exciting — that it's a clue to a long-lost treasure! Unfortunately, Max and Oscar aren't the only ones after the treasure, and it takes some slick moves and quick thinking for them to come out on top.  
The Max Booth series is a light, sci-fi adventure set in the future that focuses on uncovering the secrets of mysterious gadgets from the past. In this adventure Max learns about pet ID chips that are implanted into dogs and cats. In past adventures he looks at cassette tapes, postage stamps and rolls of actual film. 
The future world building is inventive and entertaining. I loved the idea of suburbs in the sky and the idea of a faithful robo-dog pal! It was also interesting to ponder what technology might become completely obsolete in 400 years and what things will remain. Max is a likeable character who despite being an orphan on the run, is making the best out of his situation with a little help from his friend Jessie.  It's easy to be charmed by his optimism and ingenuity in the face of adversity. Oscar his faithful sidekick is never short on ideas and helps whenever he can. I really enjoyed the way the two characters interact in the story. 
Dave Atze's black and white illustrations are funny and spot on for a junior fiction readership. They give the story a fun feel and break up the text nicely. The layout of the book is fantastic for kids moving on from easy readers and the language used is just right. 
Max Booth Future Sleuth – Chip Blip is an entertaining, easy to read, fast paced story, making it a good pick for readers aged 7-9 who have enjoyed Squishy Taylor or Danny Best. It should appeal to kids who like science, adventure and mystery — and a dream of a robo-pal of their own.
Reviewed by Renee Mihulka