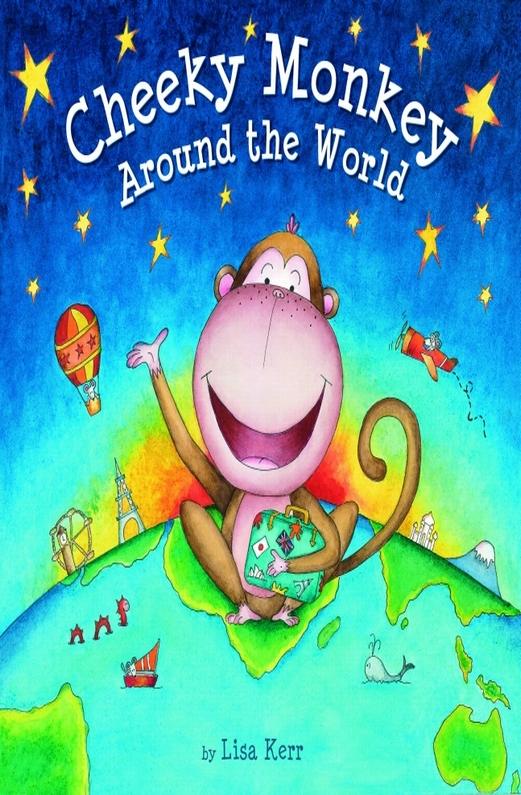 Lisa Kerr,  Cheeky Monkey Around The World (Cheeky Monkey #3),  Five Mile Press.  June 2014. 24pp, $14.95, ISBN: 9781760062453
Cheeky Monkey lives somewhere unspecified in Africa but when he has his Grand Adventure he travels to many famous places around the world. Everywhere he goes Cheeky Monkey comments on some well-known aspect. In Egypt he imagines being an ancient Egyptian king (note the text says 'king' not 'pharaoh'). You can guess where he goes by a list of some of the illustrations  – Leaning Tower of Pisa, gondolas, lederhosen, Eiffel Tower, poodle, bullfighter, Big Ben, London Eye, Statue of Liberty, Great Wall of China. The last stop before going home again is Sydney where he surprises a kangaroo or two and nearly makes a koala fall out of a gumtree.
Bright colourful illustrations, often spread across two pages, are crowded with familiar images. Some pictures are angled and given corners to make them look like old-fashioned photographs which add charm to the travel recount. This is a cheerful light-hearted book which gives a minimum of information suited to the intended very young audience. It is a pity that each country visited is so firmly tied to clichéd images but this may work for a first look. The endpapers have a useful map of Cheeky Monkey's travels around the world.
reviewed by Mia Macrossan