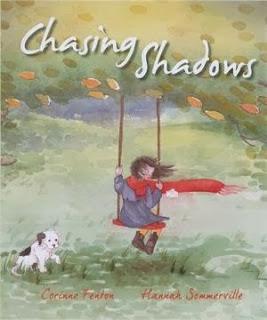 FENTON, Corinne (text) Hannah Sommerville (illus.) Chasing Shadows Ford St, 2014 unpaged $26.95 ISBN 9781925000153 SCIS 1645141
It is not clear why Beth is such a sad little girl.  There is no mother in the story and a family photo suggests that this may be the loss that preoccupies her.  Even the arrival of a cheeky pup, Patches, does nothing to dispel the shadows she encounters every day.  Each page depicts the joyous adventures of this cheeky little dog as he explores his new home, often shared with Beth's father but not with her.  When Patches is bitten by a snake and nearly dies, his recovery finally brings her some happiness.
First-time book illustrator, Hannah Sommerville, has captured the personality and antics of Patches that provide a stark contrast to the sad face of Beth.  The delightful endpapers comprise miniature versions of the cheeky little dog doing all the things he loves.  Ages 3-6.
reviewed by Elizabeth Douglas