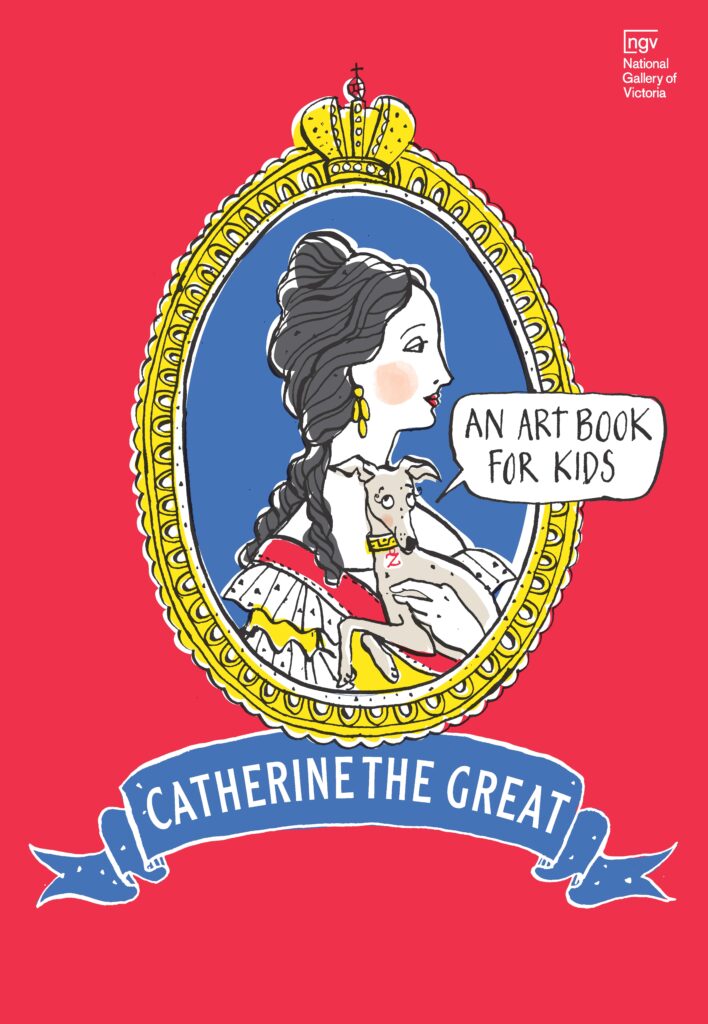 Kate Ryan (text),  Kat Chadwick (illus), Catherine the Great: an art book for kids, National Gallery of Victoria,  July 2015, 76pp.,  $14.95 (hbk),  ISBN: 9780724104123 
Did you know that in the 1700s the fashion for ladies of nobility was to cover their faces with thick white paste and paint red circles on their cheeks? What wasn't known then however was that this paint contained lead, which is poisonous. You may also be interested to discover that hundreds of years ago most people didn't wash, disguising their smell with strong perfumes. Interesting facts and anecdotes of every day life, along with information about items from the Hermitage collection, litter this beautifully published art activity book for kids to coincide with the exhibition, Masterpieces of the Hermitage: The Legacy of Catherine the Great showing at the National Gallery of Victoria (NGV International) until 8 November 2015.
Zemira, Catherine's pet Italian greyhound, acts as a guide introducing kids to the life and times of Catherine the Great and the wonderful art works and objects from the Hermitage collection, acquired or commissioned over her thirty-four year reign. Cleverly presented 'small bites' of information via subheadings, voice bubbles and associated activities along with beautifully reproduced paintings and objects from the collection will draw children into the extravagances of Russian royalty as well as introducing them to enlightenment thinking that was so influential at the time.
Now considered the first public art museum of its kind, the Hermitage museum that began as Catherine's private collection is a fascinating collection, illuminating the excesses and passions of its collector and her times. This handsomely presented children's activity book that includes an illustrated list of works will be a meaningful follow up to viewing the exhibition but stands alone as a fun activity book and informative historical source that may encourage young readers to do further research.
Highly recommended for children 6+.   Related activities can be found on the NGV website.
Reviewed by Mem Capp