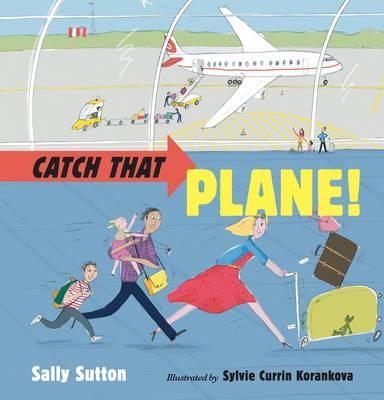 SUTTON, Sally (text) Sylvie Currin Korankova (illus.) Catch That Plane! Walker, 2014 unpaged $24.95 ISBN 9781921720680 SCIS 1671874
A young boy is rushing with his family to the airport because they are late.  They make their way through check-in and departures, past sniffer dogs and through security, along the travelator and aerobridge until at last they are on board and racing down the runway.
This rhyming text is fun to read aloud.  The rhythm builds tension and excitement.  Short phrases, the use of lots of action verbs and the repetition of a- at the beginning of words as in a-zooming and a-vrooming adds to the sense of immediacy.  Each double spread describes a different part of the journey to the plane.  The first noun is large and bold and sets the scene.  A question is asked utilising the senses e.g.  what do I hear?  followed by a response.  There is also a facts page at the end which gives a glossary of terms found in the book.
The funky retro artwork, rendered in pencil and digital media, perfectly supports the text.  The distorted perspective, colour and line capture the movement and bustle of the airport and offer a lot to explore on rereading.  Catch That Plane!  will resonate with any young traveller and lover of word play.  Recommended for preschoolers and for lower primary.
reviewed by Sharon Seymour