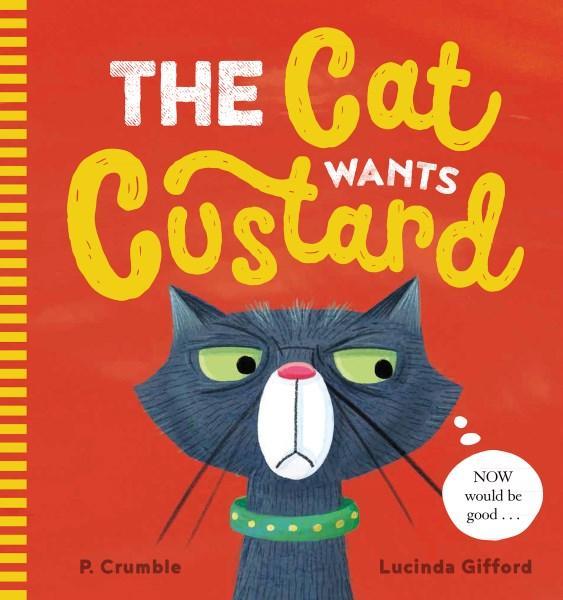 P Crumble (text),  Lucinda Gifford (illus),  The Cat Wants Custard,  Scholastic Australia,  1 July 2016,  32pp.,  $16.99 (pbk),  ISBN: 9781760155780
Anyone who has ever owned a cat knows that they do not have owners; they have staff. Kevin, the eponymous cat of The Cat Wants Custard has a craving for a sweet treat, and his antics in trying to communicate with his humans in order to obtain a delicious bowl of warm, creamy custard form the basis for this entertaining story. The author of the well-known There Was an Old Lady series, the mysterious P. Crumble (pen name for children's author Paul Dumble) teams again with illustrator Lucinda Gifford to create a brightly coloured, fast moving picture book, that will make children aged 4 to 9 giggle with delight.
This is Kevin the cat's story, and he communicates in thought bubbles which are spread across each page, accompanied by fantastic illustrations which really capture Kevin's emotions through his facial expressions and body language.  The lengths that Kevin will go for a bowl of custard are great fodder for discussions about favourite foods, needs and wants, as well as animal communication – but better than this, the story is genuinely funny and is just the thing for an end-of-the-day story session which will send students home with a smile on their dial!
Reviewed by Kay Oddone