Dav Pilkey, Cat Kid Comic Club, Scholastic, December 2020, 174 pp., RRP $17.99 (hbk), ISBN 9781338712766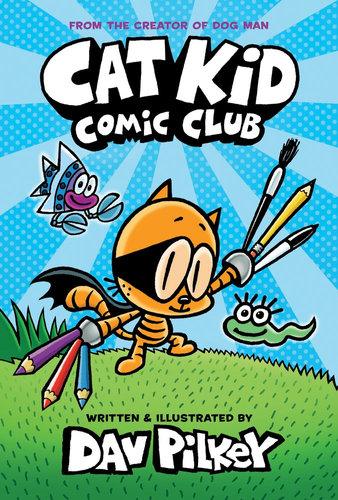 Cat Kid Comic Club is a graphic novel featuring Cat Kid Li'l Petey, a crazy bunch of tadpole friends with their frog father and Cat Kid's off-sider Molly who I think is another tadpole but the fact that Molly is airborne leaves me with some uncertainty. Younger readers will know exactly the species of this character.
Cat Kid is trying to get the young tadpoles to write comics; this being the idea behind the formation of the Comic Club. But the tadpoles are unsure of themselves. They are afraid of failing so when Cat Kid cleverly tells them to 'write to fail', they cast off all doubts about their abilities and come up with some inventive comics — presented as written and illustrated by the tadpoles in their own comic book style.
The results are wonderful — quirky stories, uncensored in many ways, and laugh out loud funny—as the tadpoles realise they can be successful if they follow a few simple rules: always try to improve, accept it's okay to fail miserably sometimes, and to focus on the things you love.
I can understand without any reservation why my young grandson, and so many of his friends, are great fans of the work of Dav Pilkey, author of the internationally bestselling series, Dog Man in which the character of Cat Kid is introduced. Cat Kid Comic Club is book one of this new series of books which I am sure will be equally well-received and acclaimed. After all, it's great to laugh out loud.
Reviewed by Jennifer Mors