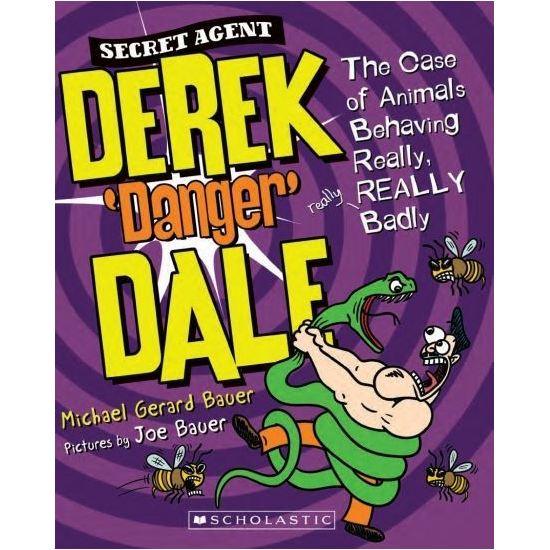 BAUER, Michael Gerard (text) Joe Bauer (illus.) The Case of Animals Behaving Really Really, Really, Badly Omnibus (Secret Agent Derek 'Danger' Dale), 2014 122pp $12.99 pbk ISBN 9781742990651 SCIS 1666662
This new release from the talented Bauer team is aimed at all fun- loving 8 to 80 year olds.  Secret Agent Derek 'Danger' Dale, who first appeared as a fantasy alter ego of Eric Vale in the Eric Vale series, now has a graphic novel all to himself.  He is a secret agent, working for Archibald Boss.  There have been three mysterious robberies, all involving animals.  It does take Derek a little while to figure out what the common element is here – but he soon learns that the mastermind behind them all is Evil Doctor Evil MacEvilness.  In his quest to foil the Evil Doctor, Derek is threatened by an inventive collection of horrible, scary but very funny animals.  It is all part of a plot to steal a fabulous diamond to help Doctor Evil take over the world.
The illustrations keep the action flowing along, adding much to an imaginative reworking of a familiar but popular scenario.  Writing stories that are consistently funny is difficult but the Bauers tell their story with such zing and infectious enthusiasm that the reader enjoys the ride right from the ridiculous death defying opening to the carefully plotted surprise ending.
reviewed by Mia Macrossan