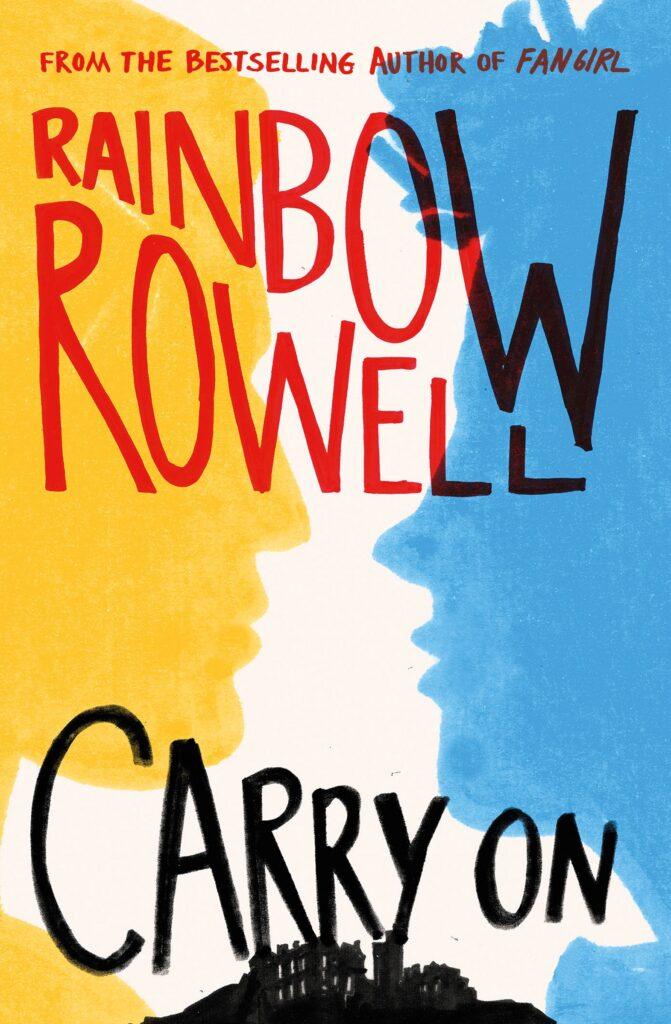 Rainbow Rowell,  Carry On,  Pan Macmillan,  13 October 2015,  352pp.,  $16.99 (pbk),  ISBN: 9781447299318
Warning: This review is just as much an exploration of the type of book Carry On is, as it is about the book itself.
Some people can only take so much meta. Maybe because we are exposed to it in almost all of our cultural references and our social networks these days. Carry On might be the most meta thing ever.
Once upon a time, Rainbow Rowell wrote a book Fangirl, with the fictional protagonist, Cath. In that book, Cath is obsessed with the fictional characters, wizard and Chosen One, Simon Snow, and his vampire roommate and nemesis, Baz Pitch, who are characters in a fictional series of books written by a fictional author, Gemma T. Leslie. Think Harry Potter. In Fangirl, Cath writes fanfiction about Simon and Baz. Fanfiction is described as stories about characters from books by fans of those books, usually diverging from original plotlines, but sticking to their established personalities. A particular sub-section of fanfiction is mm. In these stories, two male characters who might originally be only best friends or mortal enemies, are re-imagined as developing feelings for each other, and the story explores this in innocent (and sometimes not so innocent) ways. Cath's fanfiction offers unresolved, but clearly evident feelings between the two boys. There are only excerpts from both authors, since the majority of the actual story deals with Cath attending college in her first year.
Carry On has emerged from that. Rowell includes a lovely author's note at the end of the book explaining her reasons. Basically, she wanted to see what her story about Simon and Baz looked like (compared to the one created by Gemma T. Leslie, and the other one created by Cath). Mind you, all of the stories are written by Rowell, which in itself in a whole other level of meta.
Carry On is a product of our times. Many teenagers read fanfiction and become obsessed with 'ships' (worshipping a particular fictional relationship, not necessarily the one endorsed by the original text). Young readers seem more likely to engage with texts in social and customised environments. Don't like the way The Hunger Games ended? Well, find someone who decided to write a version in which Katniss picks Gale. Or better yet, write your own version and make it public. Online platforms make these evolving narratives possible, and perhaps educators need to pay more attention to this organic way of reading, and realise that, just because students aren't borrowing books from libraries, doesn't mean that they aren't reading at all; (but that's a discussion for another day).
Is it necessary to have all this contextual information in order to read Carry On? No, probably not. But it will enhance the reading experience, and with the extra insight, allow readers to better appreciate the way Rowell uses our prior knowledge of books like Harry Potter, and the magical school trope, to leave gaps, and cut straight to the complicated, messy relationship that exists between Simon and Baz, now in their eighth and final year at Watford. There are detailed flashbacks to pertinent adventures from previous years, and while there is the mystery to solve about the 'Big Bad', it's really all about the boys. Simon also has two friends who are girls. Agatha and Penny. While Penny is best friend, whip-smart, and loyal, Agatha is girlfriend, prim and proper, although their relationship is currently in turmoil. Simon wants to ignore their troubles, while Agatha wants to be free from magickal expectations, and live a 'normal' life. Which might include Baz, maybe. If he's interested. Or not. Maybe. Problems arise when Baz actually doesn't return to school initially, and all three friends try to work out what's happened, but for very different reasons.
One of the fun elements imagined by Rowell is the words spoken while casting a spell. They all seem to be common expressions, including song titles. So at one point, when Simon is trying to get Baz to reveal himself, he calls out, 'Come out, come out, wherever you are!', and 'Scooby-Doo, where are you?'. It's very funny at times, especially when the magick-making becomes serious and deadly. The British-isms and the snark come thick and fast (Simon, you are the worst Chosen one who has ever been chosen), and if sometimes Rowell seems mocking, it's definitely affectionate and friendly, never caustic or unkind.
Rowell doesn't make her evil characters all bad either, nor are her good characters all perfect. However, the adults who are at war are all selfish, behave in very stupid ways, and the fallout is tiresome and all too familiar. I loved the way the mystery is solved. It's all written in the present tense, and Rowell loves to uses brackets to add addendums (that are usually hilarious, and clever), and there are a lot of narrative voices, not just Simon and Baz. So those aspects might play into whether it's a book that suits you. But for me, it was all wonderful, all powerfully emotional, and while Simon and Baz are terrific apart, they are glorious together.
So, carry on, Simon and all that!
By the way, this is not Harry Potter, aged 11, all wide-eyed and bushy tailed. This is Simon Snow, nearly College-bound, all cynicism and sarcasm, worn down by his burdens, denying his same sex attraction, and swearing like a trooper. Perfect for your older teens, ardent readers who will gleefully 'get' the in-jokes, the references, and who will love the race to find and defeat the Humdrum, and who will relish that it doesn't all play out like expected. Oh not at all.
Reviewed by Trisha Buckley