Michael Wagner (text) and Heath McKenzie (illustrator), Can You Do This?, ABC Books, February 2021, 40pp., RRP $19.99 (hbk), ISBN 9780733335723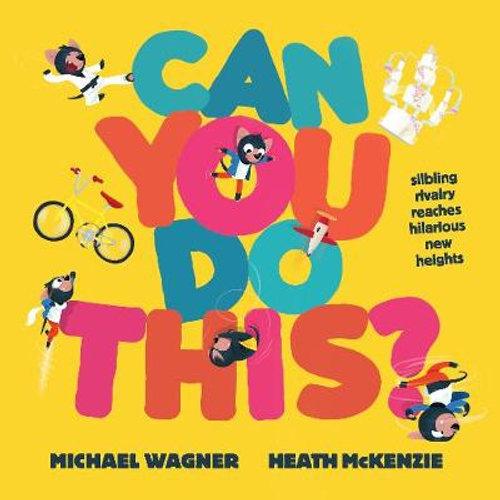 Colourful and enticing, this story about sibling rivalry is a wonderful addition to the home library.
Being the youngest in the family can be intimidating when your older sibling is just so good at everything. Bike tricks, martial arts stunts, extravagant cake decorating, and death-defying aerobatics just won't impress this older brother who gloats about being able to do all that and more with his eyes closed and his hands tied behind his back! But wait a minute… surely that can't be true.
Each double-page spread has bright, mid-action illustrations that invite readers into the story. The older brother is shown swaggering with a self-satisfied grin at his younger brother's antics, which become more extreme with each attempt to outdo his overconfident rival. Any young reader will take enjoyment at the hilarity of the colourful images.
The irony is, of course, that the younger brother becomes more accomplished with his persistence while the older sits back and lacks any particular skill he claims to master, a fitting lesson to be shared with any reader, particularly one in the midst of their own sibling rivalry.
Reviewed by Katie Mineeff