Kayla Miller, Camp, Walker Books, January 2022, 224 pp., RRP $17.99 (pbk), ISBN 9781760654924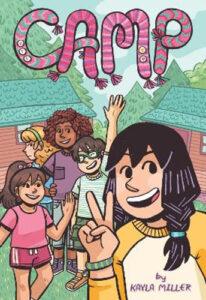 Camp is a follow on from Click! in the graphic novel series from author-illustrator Kayla Miller. It isn't necessary to have read the first book to understand the second, however the backgrounding of the main characters in the first book might be helpful for some readers.
While the camp experience can be great fun for kids, it can also be a source of stress and anxiety, and this makes it a rich subject for mid to upper primary readers. The story is about exuberant Olive and insecure Willow; besties who head off on camp together. I enjoyed how the author portrayed Willow's homesickness and her clinginess (to Olive) and the resulting fight between the girls. Lots of relatable feelings for extroverts and introverts alike. I'm not sure that kids this age would actually have the emotional intelligence to speak of their feelings so articulately as the leads do in the finale before reconciling. However, the scene may serve as a bit of a model for kids finding themselves in similar situations.
Camp is a fun read that will appeal to fans of The Babysitters Club and Raina Telgemeier.
Reviewed by Heather Gallagher 
Read Heather's review of Click! here.