Maureen Glover (text) and Gabrielle Fry (illustrator) Bush tucker counting, Magabala Books, July 2023, RRP $14.99 (board), ISBN 9781925936452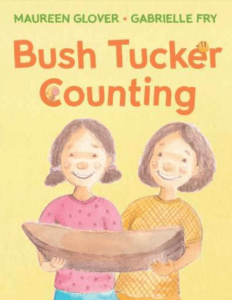 Bush tucker counting is a feast for the senses. The text on every page of this delightful board book utilises sumptuous alliterations; cleverly selected words that combine the fun experience of learning to count with engaging visual elements and the delicious expectation of tasting bush foods.
As a proud Bundjalung women, Glover was keen to write a story that shared knowledge about my culture with young children in a fun, informative and educational way. Bush tucker counting is the highly successful result of Glover's aim, achieving these goals and so much more.
An appreciation and knowledge of indigenous culture is a gift from which we all benefit. There is interesting information for adult-readers to share with youngsters and a range of (maybe) unfamiliar foods. The lyrical tone makes the task of learning numbers and words joyous. Of course, there is also the possibility of tasting new foods which is always a treat.
The washy wonderful watercolour illustrations by Dagoman woman Gabrielle Fry combine with the focussed text by Glover to create this brilliantly presented board book. The pages are uncluttered, with each bush food clearly featured for ease of counting and the sheer enjoyment of the visual design. Whether it is Two wary witchetty grubs …. or Six prickly pandanus fruit peeking through leaves, there is tongue twisting delight throughout this learn to count and learn to read book for young children.
Bush tucker counting is a true joy. Maureen Glover and Gabrielle Fry have expertly created a 21st century children's counting book and early reader that takes its inspiration from our indigenous people. It is wonderful that we have been introduced to a new palette of foods through the sharing of knowledge by two proud indigenous women, both of whom are committed to educating us with the wisdom and experiences of the oldest culture in the world.
Reviewed by Jennifer Mors