Adam Gidwitz, A Tale Dark & Grimm, Andersen Press, October 2021, 208 pp., RRP $20.25 (pbk), ISBN 9781783440870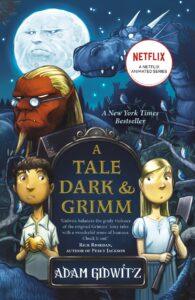 The first book in the Grimm series trilogy, A Tale Dark and Grimm, author Adam Gidwitz revives the original Grimm brother fairy tales in an irreverent and amusing manner. So, despite the often violent and grisly events, kids are likely to read it as more awesome than gruesome. I haven't watched the spinoff Netflix series, but I can easily imagine that it would translate well to an entertaining animated programme.
The narrator's voice is strong throughout the story, commenting on characters and events, and often pre-warning of violence to come. The commentary is entertaining, highlighting the absurdity of situations, but also acts as a temper for intensity; quickly transporting readers back to reality. And the forewarnings, I feel would, rather than discourage kids only challenge them to read further! Overall, the narrator's voice adds a very personal touch to the book, as if the author has taken the reader into their confidence.
The tales themselves are full of action, twists, and turns. Having not read the original Grimm tales but familiar with the sanitised modern fairy tales it was really interesting to delve back to the original plot lines and learn the much greater and complex stories of Hansel and Gretel, that also combined elements of other fairy tales like Little Red Riding Hood.
A Tale Dark and Grimm, despite what the title might suggest, is a really entertaining, at times humorous and engaging journey through the many ordeals faced by brother and sister Hansel and Gretel, which ultimately, as in all good fairy, tales ends happily.
Recommended for ages 10+ years.
Reviewed by Julie Bertola