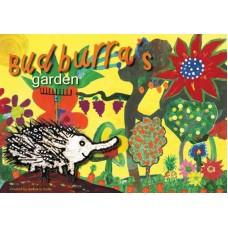 BUDBURRA BOOKS (text) Cherbourg Community (illus.) Budburra's Garden: Eating Colours Budburra, 2013 unpaged $22.00 pbk ISBN 9780987134813
Budburra is an Aboriginal word for echidna.  Budburra Books is a not-for-profit organisation which involves Cherbourg children and community members in the production of books, art and films.  In this case the children have contributed to the vivid art work with Cherbourg Yidding artists Geoff Bonney and Peter Widmer.  A number of project officers and health workers have also been instrumental in the publication of this polished looking, fun publication.
Sammy is tired and hungry.  Red, green, orange, white, and purple foods he can choose from are presented on separate double page spreads.  The green section, for example, shows tiny peas, flowery broccoli, zesty green ants, and a smooth avocado.  Then the large text asks which green food Sammy ate.  Below the question is an illustration of a pea pod.  The white pages include bunya nuts, wriggly witchetty grubs (and shows what is left of the one Sammy ate), garlic, and cauliflower.
At the back of the book the bush tucker foods, including bush lemons and plum pines, available in Budburra's garden, are listed and illustrated, followed by some eye-catching food and health facts.  A selection of recipes with rainbow results, for example, fruit salad and rollup wrap, complete a stunningly colourful book that will be a valuable and entertaining inclusion in any collection for young children and their families.  EC