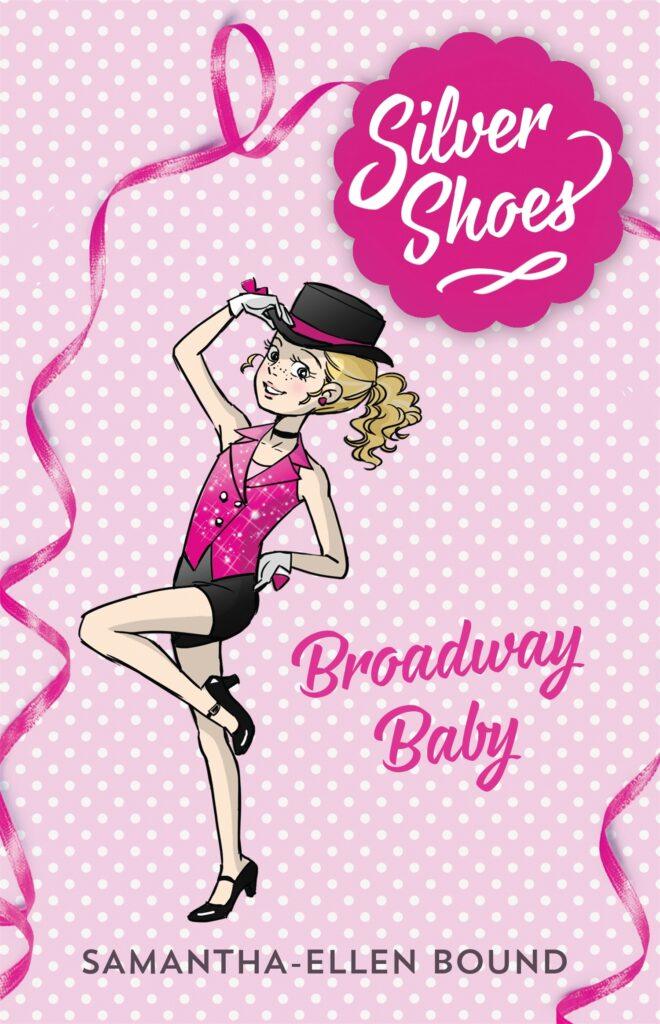 Samantha-Ellen Bound, Broadway Baby (Silver Shoes #5), Random House Australia, 1 October 2015, 144pp., $14.99 (pbk) ISBN 9780857989031 
Samantha-Ellen Bound, Lights, Camera, Dance (Silver Shoes #6), Random House Australia, 1 October 2015, 144pp., $14.99 (pbk) ISBN 9780857989055
This series for younger, independent readers, particularly girls with a keen interest in dance, is brimming with drama and common tween-age matters of the heart. Each book, written by an expert in the performing arts, explores a dancing platform for a different girl (from a group of four friends) from the Silver Shoes Dance School.
In the fifth book, Ellie (Eleanor Irvin) is a confident 11 year old thriving as a talented jazz dancer at her school. But Ellie wants more. Her fascination with musical theatre, and the encouragement of her dance teacher, allow Ellie to pursue becoming a 'triple threat' – a dancer, singer and actor. When the opportunity arises to audition for a part in the Bayside Choral Society's Broadway show, Mary Poppins, Ellie is more than excited. But her confidence in herself is tested when she meets her performing rival, Cadence Kohdean. Positivity, self assurance and modesty are qualities that Ellie discovers to find her dancing feet and shine.
Broadway Baby is eventful with a sassy main character. It includes simple language with some relatable modern-day fads as well as references to the history of famous dancers and show business. The book is also equipped with a glossary, fun facts and a lesson in being true to yourself and your friends.
Ashley Jenkyns features in the sixth book, Lights, Camera, Dance!, as an extroverted class clown, fully engaged in her hip hop dance lessons. When an agent arrives seeking out junior dancers to star in a music video clip with Ash's favourite hip hop / dancehall celebrity, she really wants to impress. But the bickering and foul-play between Ash and her ex-dance school enemies stand to get in her way. With her quick wit and skilful moves, Ash rises above their level and she and her friend Benji claim a featuring part in the clip.
Lights, Camera, Dance! is entertaining for its facets of humour and suspense. It is a book that active tweens can enjoy for its straightforward, uncomplicated storyline about the dancehall style, community spirit and the drama of competitiveness.
The Silver Shoes series appeals to those 8 to 12 year olds who love the elements of show business, the celebrity life and the performing arts subjects. There are positive aspects of problem solving, friendship and a focus on being unique and individual. As these books include some controversial undertones surrounding bullying, self assurance and body image, less confident personalities may benefit from adult guidance and support in tackling these issues. Overall, the books with their contemporary black and white illustrations are joyous and vivacious, just like the nature of real dancers. With another two books in the series recently released fans will be urging parents to help them complete the set.
Reviewed by Romi Sharp