Gareth Ward, Brasswitch and Bot (Rise of the Remarkables, #1), Walker Books Australia, August 2020, 352 pp., RRP $ 19.99 (pbk), ISBN 9781760652210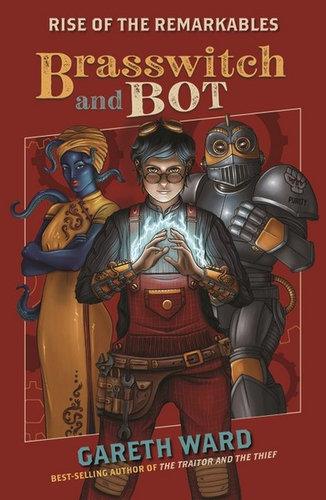 Until today, being called "Brasswitch" would have got you killed. Now, it might save your life.
Screams surge along York's narrow Victorian streets as a run-away crackle tram races towards disaster. Fearing an accident like the one that killed her parents, Brasswitch Wrench is forced to reveal her powers – a decision that will change her life forever. Recruited to the sinister department of Regulators who hunt down others like her, Wrench teams up with their maverick mechanical leader Bot as they are tasked with halting the rise of the aberration threat. Drawn into a world of prejudice, deceit and danger, Wrench must master her powers, knowing they offer her only hope for survival… if they don't destroy the world first.
Brasswitch and Bot is a rollicking steampunk fantasy novel written by Gareth Ward, best-selling author of The Traitor and the Thief.  Set in an alternate Victorian-era York where a mysterious rift above the city causes magical anomalies and gives people unique and remarkable abilities 
Miss Wren Chester-Harris, better known to herself and the world at large as Wrench, is the central character and the titular "Brasswitch" – a Remarkable possessing an affinity with machines – of the story. She's a young woman of strength and perseverance, but haunted by trauma from her past. She's a very likeable character, and Ward has done a great job with voice and characterisation throughout this novel.
Ward's writing style is extremely engaging and effective, and he has built a bright and vibrant world with a fascinating history in which to tell his story. From the very first page we are thrust into this familiar yet somehow strange world, and at first I found it a little tricky to keep up with all the terminology used in the world of Brasswitch, but I soon got the hang of it and settled back to enjoy the ride.
Brasswitch and Bot is an exciting and thoroughly enjoyable coming of age story that will suit young adult readers from the age of 12 and up. Jam-packed with adventure, mystery, action and magic, it's a highly original work that's sure to enthral and delight. Can't wait to read more!
Reviewed by Christian Price