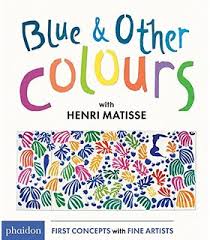 Blue & Other Colours with Henri Matisse, Phaidon/Penguin,  15 March  2016, 30pp.,  $14.95 (board book), ISBN 9780714871325
Created for the 1-3 year-old market, this is the first book in Phaidon's First Concepts with Fine Artists series. Running along similar lines to the literary classic board books, the books provide a very basic introduction to the work of influential artists. This book was created in collaboration with the Henri Matisse estate and features works from the iconic The Parakeet and the Mermaid (1952).
The works are collages made from shapes cut from painted paper in a process Matisse described as 'painting with scissors'. The book would be good for introducing infants to colours, with a comforting repetition of blue. There is a short biography of Matisse at the end of the book.
This will appeal to art-loving parents and their littlies.
Reviewed by Heather Gallagher