Natalie McKinnon (text) and Margaret Tolland (illustrator), Bizz Buzz Boss, Starfish Bay Children's Books, February 2019, 36 pp., RRP $24.99 (hbk), ISBN 9781760360566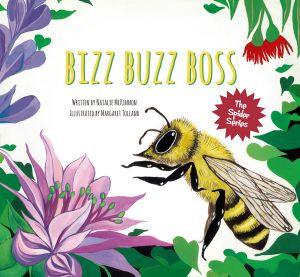 Don't we all know someone who thinks they're more important than everyone else? Well, Little Spider knows someone too, and her name is Bossy Bee. Not a day goes by that Bossy Bee doesn't ruin the peaceful garden vibe by explaining to everyone how she's busier and more important than them. But when Little Spider devises a simple trap, self-absorbed Bossy Bee has no choice but to stop, watch and learn how all the creatures in the garden have very useful roles.
This is a beautiful book. New Zealander Margaret Tolland's bold illustrations bring the garden, and story, to life, with an intricately drawn Bossy Bee virtually flying out from the pages. The vibrant colours draw the reader in, while ample white space and a playful font make reading easy. Double-spreads feature on every page, showcasing a delicate and vibrant ecosystem. The clever endpapers feature the book's creatures, each of whom is a cog in the wheel for the garden's survival.
McKinnon's writing is simple and effective, showcasing her active interest in the environment and in connecting children with nature. Gardens are more than a collection of plants, birds, bees and bugs. Bizz Buzz Boss encourages children to step outdoors to learn about, and appreciate, this complex community. Highly recommended.
Reviewed by Maura Pierlot