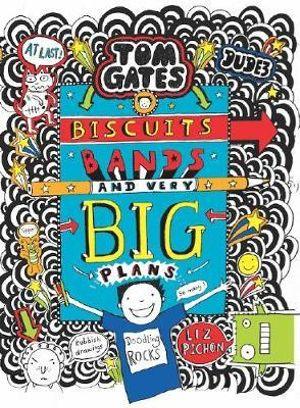 Liz Pichon, Biscuits, Bands and Very Big Plans (Tom Gates #14), Scholastic Australia, June 2018, 272pp., $16.99 (pbk),  ISBN: 9781742998183
I was thrilled to review another book in the popular Tom Gates series.
This 14th Tom Gates book is again a humorous account of everyday happenings in Tom's school and family life.  There is the Dogzombies band practice during which Tom and his friends do more biscuit eating and general mucking around, than actual band practice.
At school, Tom gets unwillingly co-opted into singing in an inter-school "recycled" orchestra competition.  Despite (or perhaps because of) several mishaps and blunders at the competition, his school's orchestra wins a certificate for the most creative performance.
Tom's visit with his grandparents to the Leafy Green Old Folks Home is also eventful and funny, as is his sparring with sullen teenage sister, Delia, over diary entries.
Similarly, to other Tom Gates books, Tom's boisterous black and white doodles and drawings and Pichon's amusing carton style depictions of story events, are interspersed throughout the text.  I love how Tom's craft and doodling ideas are incorporated in the story.  As such, Tom Gates books celebrate the pleasure of creativity and provide an antidote to passive entertainment.
As it turned out, the gentle humour of the book was a real salve for me as I read it whilst at the bedside of my terminally ill father.  Amidst my emotional upset, Tom's enjoyment of life, his warmth and friendliness and his boisterous sense of humour comforted me.  I would like to dedicate this review to my Dad, Norman, who passed away aged 87 on 6th August.  Norman was gregarious like Tom and he also enjoyed biscuits.  He was an avid reader and he would have enjoyed Pichon's humour. Whilst Tom, from a child's perspective, basks in the comfort of having two sometimes exasperated, but always loving parents, Norman too provided a comfortable childhood for me through his parental dedication and love.
Biscuits, Bands and Very Big Plans will no doubt be eagerly awaited by Tom Gates fans.  If a child in your life hasn't read a Tom Gates book yet, be sure to introduce them. Being easy to read and having content of broad, general interest, I highly recommend this 14th book in the series to children up to about 11 years old.
Reviewed by Barbara Swartz