Kirli Saunders (text) and Dub Leffler (illustrator), Bindi, Magabala Books, November 2020, 144pp., RRP $16.99 (hbk), ISBN 9781925936667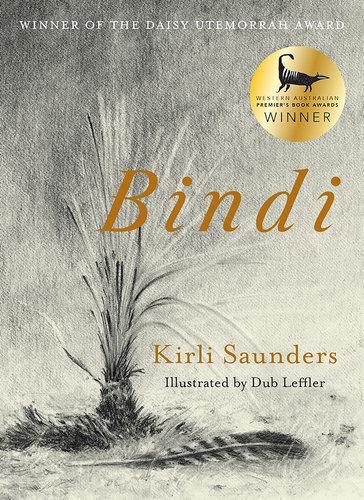 As soon as I received this book for review, I knew I'd love it. Aesthetically, it is beautiful: hardcover, black and white sketched images with burnt gold lettering, I flipped through to discover a verse novel, a rarity in mid-upper primary Australian literature. When the last page was turned, I was not disappointed.
Bindi is an eleven-year-old girl who lives with her mum, dad, brother, and sister in a house that backs onto bushland. She spends her days in the bush (bawa) with her friends playing 44 homes and scouting the caves, playing hockey or planting Elders and She-Oaks with Aunty Lindy. Bindi is worried about being in charge of painting the school mural and the dry earth that sits in waiting for the fire threatening to invade. She dances with her mother and community to bring rain to Mother Earth, but it does not come and soon enough the fire is upon them.
Award winning international children's author, Kirli Saunders has constructed a relatable narrative cleverly woven into captivating verse. It is a celebration of language, the free form style of verse, rich with symbolism and imagery with the Gundungurra language sprinkled throughout, representing Bindi's strong connection to her culture, the Old People and Mother Earth.
Readers can explore themes of community, friendship, spirituality and environmental connection and preservation. Kirli Saunders says she wrote this verse novel as a call to action to young people to play a meaningful role in conservation and through Bindi this intention is very clear. The weight of responsibility for Mother Earth and her yearning to seek guidance on the issue from her elders is prevalent throughout the novel. This mix of themes makes the narrative and Bindi herself, highly relatable to a young audience.
From the perspective of a teacher, this verse novel with its bilingualism is a perfect literature study for upper primary students: a study of language, spirituality, conservation and first nation voices.
I highly recommend Bindi, as it is engaging and emotive in the themes that are so pertinent to our times.
Reviewed by Katie Mineeff