Carly Taylor (text) and Vaughan Duck (illustrator), Big Beach BBQ, Larrikan House, October 2020, 36pp., RRP $24.99 (hbk), ISBN 9780648804949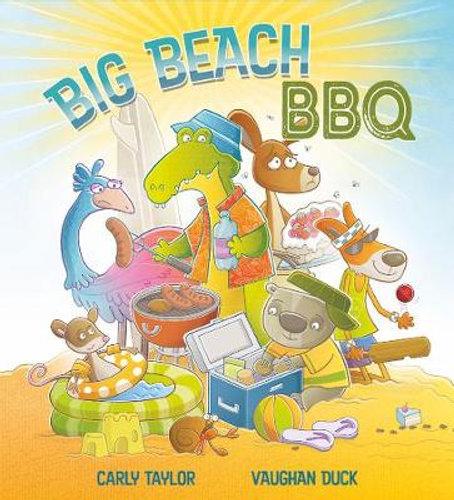 This fun Aussie picture book has a joyously irreverent tone that children will love. The rhyming text pulls the reader through a fast-paced beach barbeque, featuring a gang of Australian animal friends dressed for summer, and pictured with every possible piece of equipment you could hope to need at such a festivity.
"G'day mates! Let's grab some plates. It's time to start the party." There follow tongs and thongs, esky and pesky, strums and drums, as the party moves on. The language is full of common slang terms, and a few that may be off putting to those of delicate constitution. As Wombat "busts a move" (and, oops! lets one go) and Emu barfs (after a few too many sweets I expect), some interesting smells of the summer waft by. But that is about as strong as it gets.
The illustrations are comical and full of activity. Vaughan Duck's colour palette tends to the cordial here – lots of happy pinks, blues, greens and yellows – but also has peaceful pale blue sea and sky backgrounds, especially effective in the end pieces which show the loaded ute and caravan heading towards the beach, then off homeward on the road.
There is a great deal going on within these pages, including a few fun stories for those who pay close attention to the pictures. Teaching notes, activity pages, and pictures to colour are free to download from both author and illustrator's web pages, providing both instruction and entertainment.
Reviewed by Marita Thomson