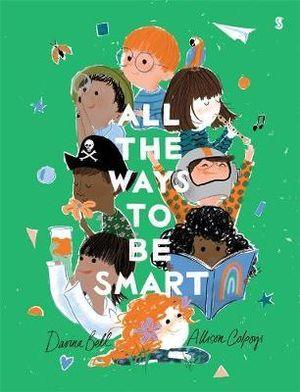 All The Ways To Be Smart by Davina Bell and Allison Colpoys could be subtitled: How to build your child's self-esteem. While there is no story, there is a very clear and real message – we are all different, we have differing strengths, but all are useful and worthy.

Generally, I have not been a fan of fluorescent colours in illustrations, but I must repent of that because I totally love Allison Colpoys' illustrations in this book. They are really stunning and restrained enough to allow young imaginations to take flight.

My 6-year-old saw this wonderful picture and immediately said, "That's me". It melted my heart that she recognised her personality in a book about being smart. And I think most kids would find at least one illustration to really connect with as the children depicted in the book are diverse in appearance and abilities.

Davina Bell's lovely rhyming text really gets at my heartstrings. The book does cover many of the ways kids can be smart, making paper airplanes, reading, and making up games. The book helps kids see that smart is not always knowing everything, it's also asking questions and taking chances. But my favourite way to be smart is: "Smart is kindness when there's crying".

While this book is such an entertaining and joyful read for kids, I think its most lasting effect will be upon the grown-ups who read it and then remember how smart and great and amazing their kids already are.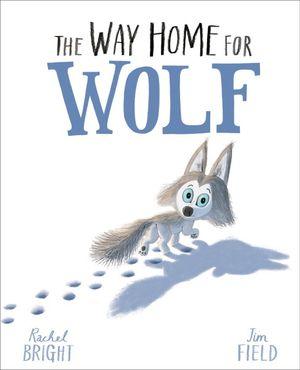 The Way Home For Wolf by Rachel Bright and Jim Field

Rachel Bright and Jim Field are the new Julia Donaldson and Axel Scheffler. It might sound like very high praise, but I stand by it. They have now created 4 amazingly illustrated rhyming books that have wonderful stories and characters which will appeal to kids for many years.

A Way Home for Wolf is their 2018 release and in my opinion is the best one so far.

Wilf is a young wolf who wants to be a leader, he wants to take charge, be a grown up, be important. But he gets lost and his only hope of survival is to swallow his pride and call out for help. Wilf is the perfect candidate for a lesson about depending on others, which is what readers will get from this book.

Rachel Bright has a way with words. She is able to build characters quickly, and weave in layers that can be opened up to kids as they get older. A young child would see this book as a nice story about a baby wolf. But older children will begin to cotton on to the lesson about being willing to ask for help and relying on others. Even older children might take the next step and think about those in need of their help and how they can be a person others can rely on.

Jim Field's illustrations in this book are superb, outstanding, magnificent. For a story set in the tundra he has managed to incorporate plenty of life and colour into the pictures. I have been severely tempted to purchase some prints he has available from this book…maybe one day.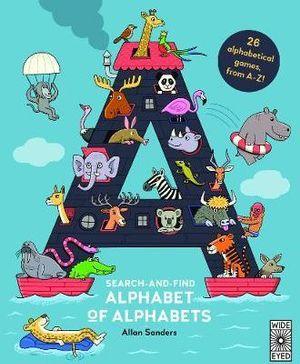 Search-and-Find Alphabet of Alphabets, by AJ Wood, Allan Sanders and Mike Jolley

When we borrowed this book from the library we renewed it twice, hence it went onto our Christmas gift list.

This book fits into two categories: look and find books, and alphabet books. If you are like me and have become bored with these categories of books over the years, make an exception and get this book. It will give you hours of entertainment and fun with the kids.

Each page has a scene based on a letter of the alphabet (e.g., E=Earth, K=Kitchen), then in each scene there is an item to find for each letter of the alphabet. Some pages are set up like a standard look and find with the pictures of the items on the sides of the page, others have a just a printed list to search out, others have the items labelled.

The really great thing is that the illustrations are large and clear to make searching out the items easy enough for little ones, and for old ones (I can no longer do Where's Wally? It hurts my eyes).

We really found that it was great for all 4 ages of kids we have in the house. The illustrations had hundreds of items to search out, but there was enough text for the readers to build vocabulary. Even the hard-to-please 18 month old had a turn looking for things he could recognise (mainly vehicles and animals).