Matt Okine, Being Black 'N Chicken, & Chips: Teen Edition, Lothian Children's Books, March 2021, 320 pp., RRP $19.99 (pbk), ISBN 9780734420671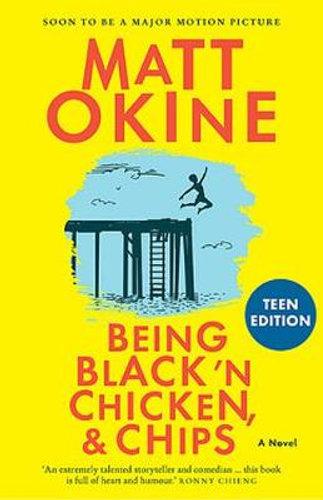 Mike Amon just wants to fit in. He wants to be a star athlete. He wants his African dad to stop embarrassing him. He wants his first kiss (preferably from Zoe Ingham, the Year Eight Girls' Athletics captain). He also wants his mum to survive.
Being Black 'N Chicken, & Chips is comedian Matt Okine's debut novel. It has been so popular with younger readers since it was released in 2019, that Lothian Books have recently released a teen edition. The storyline is the same as the adult edition, but some content and language has been changed so it can be read and studied by Australian school students.
Okine's book is a heartfelt, and in some parts genuinely funny look at growing up in Australia in 1998, in the time of the Teletubbies and mobile phones the size of bricks. Mike is making the transition from primary to high school, and he really doesn't think he's ready for it.
He's worried about the guys at Brindlewood High with full-blown, crumb-catching beards and the senior girls who wore bras and shaved their legs. And as a kid with a pokey little pigeon chest with scrawny arms like chicken wings, and legs that resembled two bendy, brown chopsticks, he knows he needs to grow up fast. And through the course of the book, he does.
Okine's Mike has a distinctive Australian voice that will appeal to teenagers of both sexes. They'll recognise and empathise with many of the problems he's facing. He's trying to make the athletics team, he's trying to impress the girl, and he's trying really hard to fit in.
But Mike also has to grapple with his Mum's cancer and her fight for survival. Matt Okine has based some of this storyline on his own teenage experience, having lost his mum at age 12.
Being Black 'N Chicken, & Chips deals with coming-of-age themes and examines how kids deal with trauma, growing up, embarrassing parents and the challenges of making it through puberty. It's a book that teenagers will enjoy and adults who lived through the 1990s will also relate to.
Highly recommended.
Review by Caroline Arnoul