David Campbell (text) and Daron Parton (illustrator), Bedtime is Boring, Scholastic Australia, 32 pp., RRP $17.99 (hbk), ISBN 9781760976507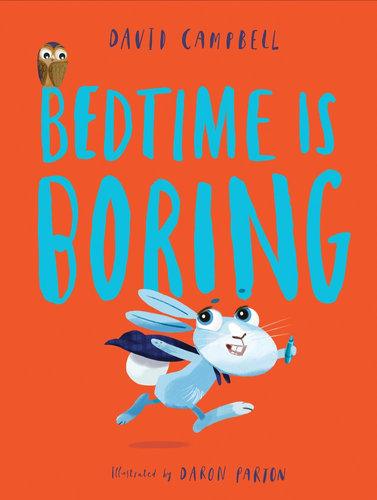 Children's books by 'celebrity authors' don't usually feature on my 'favourites' list, but this latest title from the team of David Campbell and Daron Parton hits the mark. Hardly surprising, as its predecessor, Stupid Carrots, was equally hilarious.
There's always some 'urgent' business at bedtime for Billy Bunny, like bouncing, burrowing, building and bulldozing … or, in that split-second randomness that comes naturally to children, becoming a robot. I laughed aloud at 'Robot Billy' because, for a time, we were convinced our son Aidan was an android – he never seemed to need any sleep. In fact, this entertaining read brought back memories of our three attention-challenged kids, who honed their oratory skills at an early age, debating each night why they weren't tired. Now that I've caught up on my sleep (kind of) 15+ years later, I can finally laugh about it.
If it's not already obvious, what I love most about Bedtime is Boring is that it cleverly captures the dual perspective of tired parent and cheeky child and will undoubtedly appeal to both. Daron Parton's bold, colourful illustrations capture Campbell's wry humour on every page.
How the author can find the time to write a picture book while co-hosting a morning show, singing, performing and being a dad to young children is beyond me. And can he please share his time management tips? (#1 Find a wife.)
Bedtime is Boring is the perfect title for your children's bedtime routine though, living up to its title, it won't put them to sleep. I bet most parents would pay extra for that.
Reviewed by Maura Pierlot