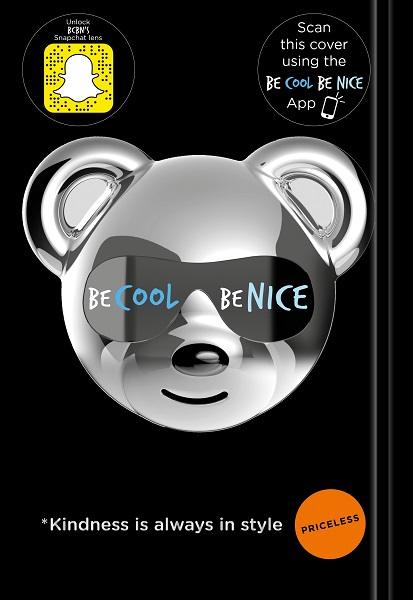 Be Cool, Be Nice, Studio Press/Five Mile Press,  Jan 2018, 144pp., $24.99 (hbk),  ISBN: 9781787410961
This book is part journal, part self-help, with themes of kindness perfused on every page. Although purporting to be a guide for all ages, its use of stickers, bright illustrations, various fonts and sweetly anthropomorphic animals points to an early teen, probably female, market. It begins with mantras to live by, which are commonly referred to during the rest of the book. There is integration with social media by suggested activities that direct the reader to consider the results of certain posts, for example, a flowchart that outlines what happens to selfies posted on the net. Overall, the pages of the book encourage becoming a nicer, less selfish person by using slightly (to me) condescending platitudes.
Be Cool Be Nice (BCBN) is an anti-cyber bullying movement, and this book is a collaboration between the campaign and Snapchat. The front cover of the book features a Snapchat lens, and the first page inside details the BCBN app. The fashion industry have been public supporters of the campaign, and many have designed the various postcards inside. Because of the local references of this UK-based campaign, it is difficult to know what reach it has in Australia. The sentiments, however, are global if not always culturally relevant.
Reviewed by Pam Harvey