Paul Seden (text) and Brenton McKenna (illustrator), Aussie Kids: Meet Sam at the Mangrove Creek, Puffin Books, July 2020, 64 pp., RRP $12.99 (pbk), ISBN  9781760894122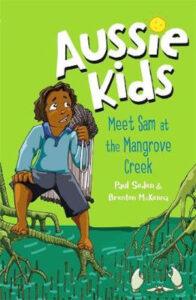 There is so much to love about the new Aussie Kids Series!
Eight books in the series, each one representing a character and story unique to an Australian state or territory. But wait there is more – each book has been written and illustrated by eight different authors and illustrators! Love it.
In this book, set in the Northern Territory, we Meet Sam at the Mangrove Creek and spring straight into the excitement of Sam waking up ready to go fishing, with his brand-new throw net. He saved his hard-earned pocket money for it, making the occasion just that extra bit special.  
His hopes are high, with aspirations to catch a "barra" (Barramundi); but does he stand a chance without ever having practiced how to successfully cast a throw net? Will his hopes be further dashed by the 'bad luck' his best mate might bring to the event?
There is a lot of fun to be had sharing in Sam's adventure at Mangrove Creek, and this main character certainly features as a wonderful role model for young readers, demonstrating thoughtfulness, compassion, and admirable mateship.
Kids will enjoy this story, with its unique Northern Territory personality. The language and illustrations match the well-known and relatable aspects of Australian culture; from the Vegemite and Rosella jam toast on the breakfast table (accompanied by a cup of Milo of course!); to meeting the ever loyal "Bazza" the dog.
An added bonus is the Fun Facts section at the back of the book. This junior fiction series is perfect for the emerging reader aged 6-8 years.
Enjoy sharing and celebrating the richness and diversity represented in these Aussie stories!
Reviewed by Sonia Bestulic