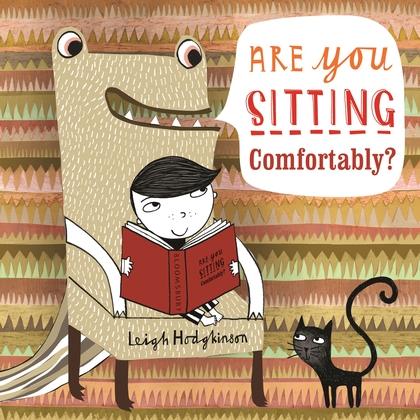 Leigh Hodgkinson,  Are You Sitting Comfortably?,  Bloomsbury,  May 2016,  32pp.,  $25.99 (hbk),  ISBN 9781408864821
Where is your perfect place to read? A comfy chair? A branch in a tree? The young boy in this story is searching for his perfect spot. He tries many different chairs, each having its own particular character, the pattern or design symbolising a fantastical setting. Each double-spread also includes  a creature which symbolises the environment. He rejects each chair for one reason or another,  perhaps too niffy or growly. The characters follow the boy through the story, building the reading audience, until he realises a book is best anywhere, as long as you can share!
I love the quirky design and stylised illustrations. The playful use of font and pattern enhance the layout. The choice of colour also lends the book a retro feel. Use of rhyme, alliteration and inventive adjectives add to the playfulness. Young readers will identify with the desire to snuggle up and share a story and will find humour in the bizarre settings. Looking deeper, this is a great story to build discussion about reading, setting, pattern or symbolism. Recommended for lower primary.
Find out about Leigh Hodgkinson.  Find a Book Trailer on YouTube.
Reviewed by Sharon Seymour