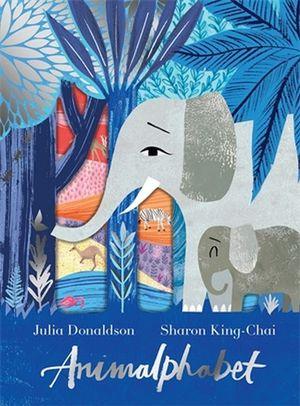 Julia Donaldson (text) and Sharon King-Chai (illustrator), Animalphabet, Pan Macmillan, October 18 2018, 32 pp., RRP $24.99 (hbk), ISBN 9781509801633
This A-Z animal book with-a-difference is heavy on design elements to entice curious eyes and fingers. From the moment you feast your eyes on the cover's glossy silver section and peek-through panels, you know this is not just a book for story time. Lift-the-flaps and cut-away sections on the thick paper pages will also keep kids entertained in their own time.
A short question on each page challenges children on their general knowledge about animals: Who is faster than a caterpillar? Who has more wrinkles than a hedgehog? Youngsters (and adults!) may find these open-ended questions tricky; especially if you forget it's an A to Z book, which is easy to do because there are no large-font alphabet letters on the pages to guide you, unlike in many other A-Z books.
The lack of A-Z letters, however, refreshingly leaves it up to the child to make their own connections with the book. The child is free to revel in the artwork, language and interactive features as they choose.
As ant leads to butterfly, which leads to caterpillar and so on, many different kinds of animals are introduced.Some are well known, such as jellyfish and whale. Others may be new to children, such as iguana and nightingale.
The simple text with a smattering of word play works with the bold, colourful illustrations and appealing interactive features to make this beautiful book one to be treasured – as long as it holds up to the repeated handling!
Reviewed by Julie Murphy