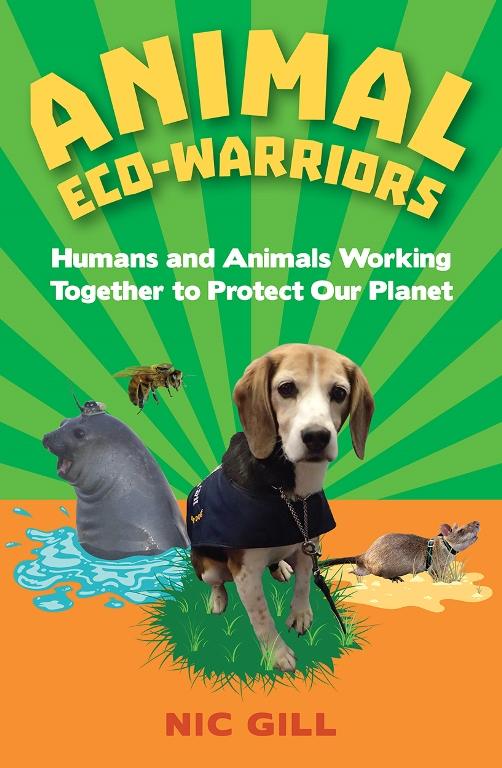 Nic Gill, Animal Eco-Warriors: Humans and Animals Working Together to Protect Our Planet, CSIRO Publishing, June 2017, 144pp, $24.95 (pbk), ISBN 9781486306213
In a world beset with ecological problems, Nic Gill's interesting text reveals how people are working with animals to help detect and solve some of these crises. From biosecurity beagles at Hobart airport, to elephant seals tracking climate change in the Antarctic, to rats trained to detect unexploded mines in Africa, each of the ten chapters reveals a fascinating insight into the training, work and vital role played by these intelligent animals as they assist their handlers with ecological dilemmas.
While mainly focused on Australian situations, other instances of human/animal co-operation from around the globe give the book a universal appeal. The start of each chapter is accompanied by a picture of the globe pinpointing the geographic location of the story. The chapters conclude with a 'Want to Know More?' section that directs the reader to further useful sources for research. A comprehensive glossary at the end of the book allows for reading with understanding as the technical terms it explains are printed in a different colour within the main text. Printed on quality paper with many colour photos throughout, the book is visually appealing. Short chapters, subheadings, an attractive layout and a writing style that is relaxed and informative rather than technical and obscure, combine to make the information easily accessible.
Animal Eco-Warriors is a book that can be read for enjoyment or for serious research. Children who love animals or those concerned about the future of our planet will find this an engaging text that can be read cover-to-cover or dipped into according to interest. It would be a valuable addition to any home or school library and is suitable for readers in the upper primary to lower secondary levels.
Reviewed by John Nolan