Coral Vass (text) and Heidi Cooper Smith (illustrator)
, Amanda Commander and the Purple Invitation (
Amanda Commander #1)
,
Wombat Books, March 2022, 82 pp., RRP $12.99 (pbk), ISBN 9781761110771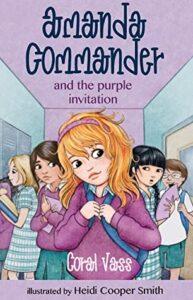 Amanda is friends with everyone so, when she discovers she is the only girl in her class not invited to her friend Eve's birthday party, she cannot understand why she has been excluded. It is even more obvious as Eve's invitations are in purple envelopes so there is no way Amanda could have overlooked it. She gathers her best friends Lu and Mai to create a plan to ensure Amanda will be invited to the party. 
Amanda Commander – The Purple Invitation is one in a series of books about pre-teen girls navigating the complex path of relationships with their peers and maintaining those friendships while being true to oneself. While the matter of a missed invitation or, as in the other Amanda Commander books—The Pinky Promise and The Yellow Dress— which deal with friends or a clothing dilemma, may seem small worries in the scheme of the wider world, these are the everyday matters that young people navigate through life toward forming their place in the world.  
The illustrations by Heidi Cooper Smith add another dimension to this story with the delightful renditions of Amanda and her friends in a variety of emotional states, as well as bold text and graphic representations of everyday things of their lives. With a limited palette of black, white, and grey, the illustrations do not distract but merge into the story. 
Author, Coral Vass has successfully created an easy-to-read book focussed about young girls within a school environment and the skill with which they navigate the path toward adulthood. By using straight-forward contemporary language, Vass gives us a book with a light touch without ever diminishing the importance such small moments can have in the lives of the young.  
Possibly not a book for young pre-teen lads, (although quite enlightening for those without a sister), the girls will love it. 
Reviewed by Jen Mors