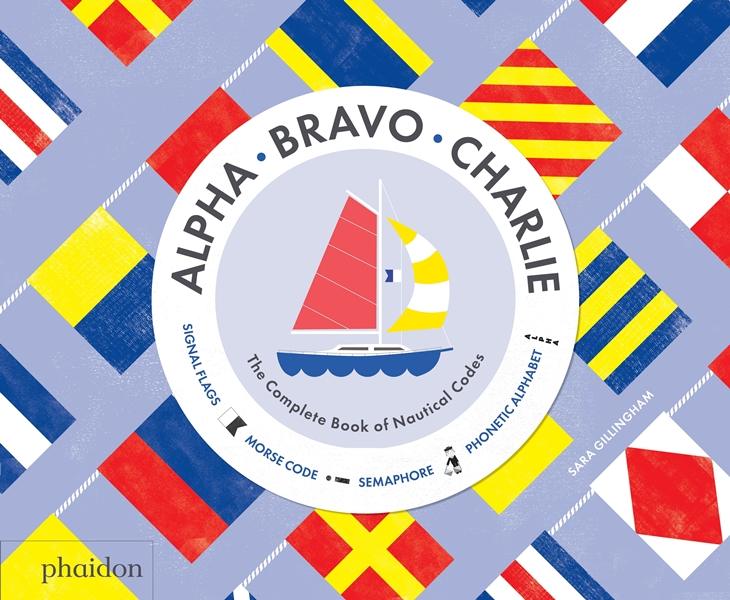 Sara Gillingham, Alpha, Bravo, Charlie: the complete book of nautical codes. Phaidon/Penguin Random House Australia, 15 March 2016, (unpaged, 60 leaves), $24.95 (hbk), ISBN 9780714871257
Reaching back in time, memory tells me that some of my most enjoyable literacy and numeracy lessons as a classroom teacher featured codes. Students appreciated the double delight of unscrambling a hidden meaning and of having a secret communication tool at their disposal for future use. Alpha, Bravo, Charlie taps into that childhood pleasure, and combines it with authoritative research, and impressive production values.
Sara Gillingham's book begins with an explanation of four types of nautical codes: signal flags, the phonetic alphabet, Morse code, and semaphore. The main body of the book is structured around two information pages for each letter of the alphabet. Every letter is represented by an explanation (in word and picture) of its own four codes and by a vessel that is connected in some way with the signal flag's meaning. Page-sized signal flags for each letter are interleaved between the two information pages. (All flag designs are printed on a finely ribbed paper, encouraging a tactile 'reading' experience.) The colours used in nautical flags are red, blue and yellow, sometimes in combination with black or white. This palette is repeated throughout the book for all text and illustrations, contributing to the volume's cohesive design.
Alpha, Bravo, Charlie was prepared in consultation with the International Maritime Organization and the Nautical Institute. It includes links to the websites of those organisations and to other reputable information sources such as Morse Code and the US-based SeaFlags. A glossary of nautical words is also provided.
Alpha, Bravo, Charlie is highly recommended for school and public libraries and for any home with a child who enjoys patterns, codes and signals. Teachers might create their own set of flags for non-verbal classroom communication. The 'stop and listen' intention of X's signal flag, or its long-short-short-long Morse equivalent, could be particularly useful!
For ages 7+
Reviewed by Tessa Wooldridge