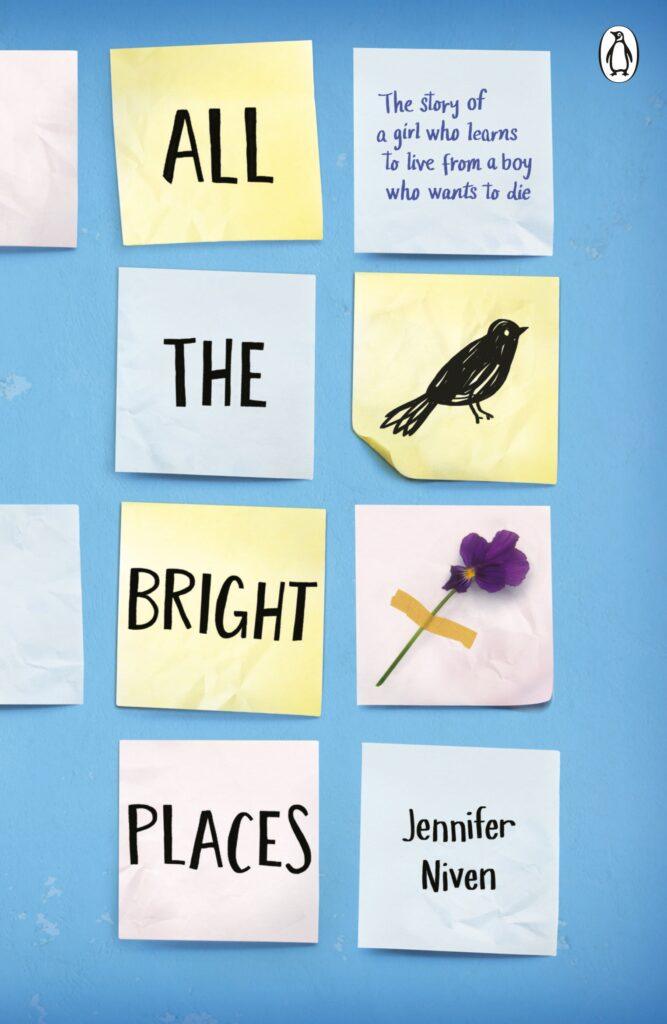 Jennifer Niven, All the Bright Places,  Penguin, 7 January 2015, $17.99,  388pp., ISBN 978-0-14-135703-4
Although it sounds perhaps a little contradictory, this is both a tragic and heart-rending story but ultimately uplifting. It is however, a book which needs to be used with some sensitivity. Theodore Finch is bullied and teased at school. The teachers are really no help and his mental condition is never properly understood. He wants to die as he can see no other way out and we first meet him and the other major character in the story, Violet Markey, when they are both standing on the ledge of the school bell tower, contemplating suicide. The book and the story of the two teenagers, gradually unfolds as we get to know them (and they each other).
The book is constructed through dual narrative which allows us to understand the story from both sides and allows the author to present differing points-of-view, sometimes on the same event. Through this, we also gain an insight into the different family values and support of Violet's and Theodore's families. Theodore is failed by his family as much as by the school system. No-one really understands him or his problems, although his elder sister tries. His father is quite violent and has re-married although his ability to bully Theodore is not altogether removed.
The book is also an exploration of grief. Violet and her family are still grieving for Violet's elder sister, killed the year before in a car accident. Many of the actions of the family result from this grief as Violet's parents are rather over-protective while not really understanding the depths of her grief and her feelings of responsibility for her sister's death. They try to separate Violet from Theo and, although they succeed for a time, she tries to find him. Her search for him after he's left town turns into a kind of detective hunt though tragically, it's all fruitless.
Feelings of guilt drive the actions and thoughts of the characters too. Violet feels guilty that she lived when her sister didn't, for example and ultimately, much too late, Theo's family, especially his mother, feels guilty for not recognising his many cries for help.
As we know, appearances can be deceiving and the book explores this too. Right from the start, the story of who saved whom from the bell tower becomes twisted, based largely on people's pre-conceived ideas about the characters of both Violet and Theo. Even Theo realises that he too, although he has suffered so much from people's misconceptions about him, finds that he is guilty of the same thing. In one of his group therapy sessions, he is joined by Amanda, regarded as one of the really 'cool' crowd at school. In fact she is insecure and suffering from an eating disorder; her appearance of bravado and popularity is really a front to cover this insecurity.
This is the first young adult novel for the author, who has previously written four adult novels. She is very successful in exploring teenage angst and the difficulties of these years, exacerbated in the case of these two, particularly for Theo, by a system which has failed him. The dialogue is convincing, as is the strength of the love these two develop for each other, the importance of which is dismissed by Violet's parents in particular.
The tragedy of teenage suicide is, unfortunately, something which occurs in Australia as much as elsewhere. Although this book is American, there is a universality in the story and Theodore's unhappiness is just as real here as it would be in America. This reality is recognised by the list of help sites available in Australia and New Zealand given at the back of the book.
reviewed by Margot Hillel