Caroline O'Donoghue, All Our Hidden Gifts, Walker Books Australia, February 2021, 400 pp., RRP $18.99 (pbk), ISBN 9781406393095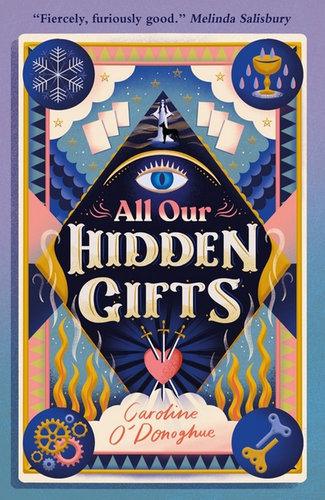 Banished to clean out the creepy school cupboard, "the Chockey", during a dreary detention, 16-year-old Maeve Chambers discovers an old pack of Tarot cards that leads her down a mysterious and dangerous path.
Maeve has always struggled to fit in. She's the barely-passing student in a family of high achievers. She's often in trouble at school, and ditching her dorky ex-best friend, Lily, has only marginally increased her social status. Until the cards. Maeve's eerily accurate reading of the tarot cards has everyone at school clambering for her to read for them. Except for Lily. There's nothing but cold animosity between them. When Maeve finds herself in a heated, public argument with Lily over the cards, she declares that she wishes Lily would just disappear.
Two days later, Lily is gone. Has Maeve caused Lily's disappearance? Has Lily run away, or is it something more sinister? Maeve teams up with her new friend, Fiona, and Lily's sibling, Roe, to find what happened to Lily – but can they solve the mystery when the police haven't a single lead?
All Our Hidden Gifts is a magical realism YA novel exploring contemporary issues against the backdrop of an Irish town with a strong religious history. With elements of witchcraft and magic, the story is not overly dark, despite dealing with some heavy themes. Hate-crimes, bullying, radicalisation, and discrimination drive the narrative forward.
O'Donoghue's story is one that champions inclusivity. Maeve's sister is back at the family home after a break up with her girlfriend. Maeve's friend, Fiona, is half-Filipino and too familiar with discrimination and isolation due to her heritage. Lily's sibling, Roe, is the gender-fluid, bisexual love interest of Maeve who explores ways to express gender representation.
While the central protagonist is a white, middle class Irish girl, Maeve's sense of privilege is challenged. In the beginning, Maeve is obnoxious and self-absorbed, desperate for a sense of belonging. Her character growth and development are motivated by her friendships with Roe and Fiona. As the story progresses, Maeve must reassess her actions and beliefs, and the role she may have played in Lily's disappearance.
Well-written and enthralling once the story gets going, All Our Hidden Gifts is an entertaining tale of mysticism, friendship, and finding our true selves.
Reviewed by Fiona Miller-Stevens