Sam Lloyd (text) and Samantha Metcalfe (illustrator), Alight A Story of Fire and Nature, CSIRO Publishing, June 2023, 32 pp., RRP $24.99 (hbk), ISBN 9781486315444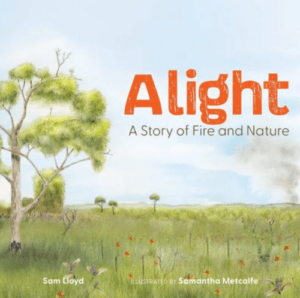 From the perspective of Australian fauna and flora, Alight shares a story of hope and regeneration, and the benefits and importance of healthy fire in the bush.
Fire is a natural part of the Australian bush. This is a story about that relationship – fire that breathes life back into nature.
Being a scientist and fire ecologist, Dr Sam Lloyd gently explores the impacts of planned burning without the text feeling too fact heavy. The added bonus of introductory character information, a glossary, and further facts to conclude provides the reader with opportunities to dive deeper if they wish.
Samantha Metcalfe's illustrations are reflective of the colourful, warm, and inviting Australian bush land. The characters are presented with whimsical details, inviting surrounds, and captivating colours.
This is a story with an extremely important message which is sure to delight younger readers as an inviting journey into the Australian bush. Older primary students will benefit from the extra factual additions.
Overall, this is a story which will prompt discussion, wonderings, and deeper understandings about our natural environment.
Reviewed by Raquel Mayman