Julie Thorndyke (text) and Jennifer Harrison (illustrator) Alice's Shoe, MidnightSun Publishing, 32 pp., July 2023, RRP $29.99 (hbk), ISBN 9781922858139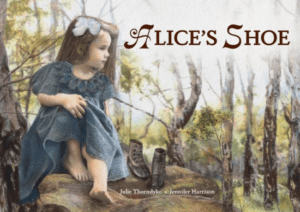 Alice loved the feel of the grass under her baby-bare feet, the splashiness of puddles, the sounds of her brothers laughing and the joyous colours of the landscape and skies that surrounded her rural home. But sadly, when Alice was still very young, an illness resulted in the loss of her sense of sight and hearing. Alice's world was forever changed.
Alice's family were determined that Alice should have an education despite her sensory challenges. As soon as she was of an appropriate age, she was enrolled in a school where she could learn techniques to enable her to communicate and navigate within the world. Alice was a natural student. Through her sense of touch, she quickly learned to read using Braille, and to sign as a means of communication. Apart from having to wear shoes when at school, Alice enjoyed her lessons and excelled.
This story is based on the life of Alice Betteridge, known as Australia's Helen Keller, who was the first deafblind person to be educated in Australia. In this very moving story about a different way of being in the world, Thorndyke has given us an inspiring and touching insight into the life of a deafblind person. The story gently unfolds in a lyrical way as Alice's sensory dependence as she experiences life through touch—hard smooth floorboards … soft smooth carpet … cool damp tiles. It is a sensuous journey for the reader — whether a young reader or an adult reading to a small child. For those who are deafblind, this story must be more than inspiring and, for all of us, it is particularly gratifying to have relevant information from which we can learn at the end of the book.
Alice's Shoe is a beautifully illustrated book. The images on every page are perfectly juxtaposed with the text taking the eye around and through the pages at a gentle pace. There is no need to rush through the story; there is a lot to talk about in terms of the illustrations as well as the words. This is a book that is a delight in terms of its visual impact with the images of Alice's life rendered soft-edged and muted in tone. Harrison's work evokes the gracious and skilfully rendered paintings by Rupert Bunny in the 19th century in which he portrayed glimpses of everyday life in that time. The illustrations in Alice's Shoe are just as captivating.
Alice's Shoe is about empowerment. It is about possibilities, resilience, and hope—all the necessary elements of a full life regardless of the physical limitations. And it is about empathy and understanding for those of us who have not had to face such challenges but wish for a more equitable and accessible world for all.
Reviewed by Jennifer Mors