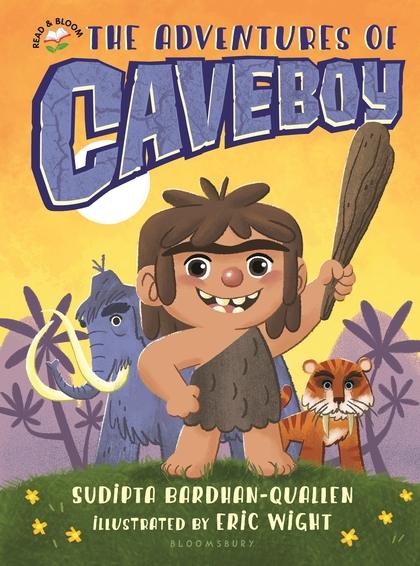 Sudipta Bardhan-Quallen (text), Eric Wright (illus.),  The Adventures of Caveboy (Caveboy #1), Bloomsbury/Allen & Unwin,  1 Sept 2017,  80pp.,  $13.99 (hbk), ISBN 9781619639867
Caveboy is just that – a boy living in prehistoric times with his caveman parents and sister. Like all good cave people, Caveboy has a club. He loves his club. But one day while playing basekull with his sister, he gets a great hit but breaks his club. Caveboy is devastated. In the next chapter, he goes looking for a new club and finds Mags, who becomes his friend. But Caveboy soon has to choose between winning and being a good friend.
This is a short chapter book with large spaced out text, suitable for newly independent readers. The computer-generated illustrations are simple and bold, with a darker colour palette –  lots of caveman browns and backgrounds reminiscent of the Flintstones. The text is simple and easy to follow. The cover may appeal more to boys than girls, though the story will probably be enjoyed by both.
Suitable for public and primary school libraries.
Reviewed by Rebecca Kemble