Davina Bell (text) and Karen Blair (illustrator), A Whole Lot of Lemonade Jones, Allen & Unwin, November 2021, 160 pp., RRP $14.99 (pbk), ISBN 9781760526375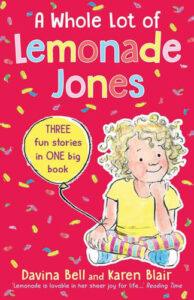 A Whole Lot of Lemonade Jones combines three fun stories in one big book. Each story (Lemonade Jones and the First Day Back.., The Zoo That Comes To You and Lemonade Jones and the Great School Fete) have been previously published as stand-alone books in the Lemonade Jones series.
Lemonade Jones is feisty and loud and likes her days to be filled with adventure sprinkled with drama. But she lives in a world of rules and boundaries which do not fit in with her lifestyle.
Within these three stories, Lemonade Jones faces problems and rules which many new school starters will relate too.
No running in the classroom, not even in an emergency.
Dangerous animals should be in cages.
No biting (Not even your worst enemy).
Lemonade Jones' 'naughty' moments will surprise and delight children. She scribbles on other children's work, shouts in class, and bites a classmate on the arm! There are some lessons to be learnt for children but the messaging is softened by Lemonade's ability to escalate things quickly and show remorse too.
Perfect for kids in their first years of school seeking humour or simply a fun, engaging quick read for Grade 1-3 readers.
Review from Edie, age 8: 'I liked how Lemonade Jones wondered How are we going to get married if we are in separate classrooms? when she was separated from Clark Dark.'
Reviewed by Stef Gemmill