Robyn Bavati, A Weekend with Oscar, Walker Books, July 2021, 208 pp., RRP $19.99 (pbk), ISBN 9781760653002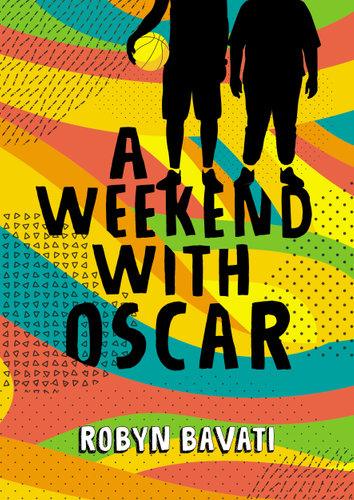 Jamie is sixteen years old and is starting a new term in the middle of the school year with a heavy burden. His father died nine months ago, and grief is still an ongoing companion for him and his mother, although neither of them express it. Jamie's mother is struggling along in her job as a life coach, and both of them are caring for Oscar, Jamie's younger brother, who has Down syndrome. Oscar will be thirteen soon and likes routines and birthdays.
Aside from schoolwork and caring for his brother, Jamie volunteers with a sports group for disabled teens. His best friend Dan, who is Vietnamese, is under a lot of pressure from his mother about school, when all he wants to do is stand-up comedy. With the new term a new girl, Zara, has joined Jamie's math's class and Jamie feels an immediate attraction that is only increased when she passes the 'Oscar test' with flying colours, being kind and friendly to his brother. The reason for this, he discovers, is that Zara also lives with a disabled sibling, her younger sister Hayley, who is autistic.
When Jamie and Oscar's mother goes to Perth for the weekend because of a family emergency, Jamie feels confident he can care for his brother for the short time, and there are some problems, but overall things are going okay. But then their mother doesn't return, and they don't know what has happened to her. Fearful that Oscar will be taken away by the authorities, Jamie doesn't tell anyone his mother is missing, struggling on alone, but he is fast running out of money and food. Eventually he and Oscar travel to Perth together to find their mother and Jamie's challenges increase.
This is a deeply moving portrayal of what it is like to have a sibling with a disability, from the impact of finding out, to the complexities of daily life to the stares and reactions of others. This isn't a perspective that's shown very often, and it's presented in an honest, realistic way. It doesn't shy away from the difficult emotions of feeling ashamed or wanting to shout, 'why can't you be normal', but it also shows Jamie's growing understanding that Oscar can do more than he has given him credit for, as he finds himself constantly surprised by Oscar's insights and abilities.
Zara's experiences offer a second perspective. Her family try to live as normally as possible with Hayley's disability and Zara teaches Jamie that if people stare and show their ignorance, that can be an opportunity to educate them rather than getting upset at their responses. Zara uses art to express her inner emotions and thoughts.
The book also offers an excellent depiction of the experience of life traumas, and their emotional and practical impacts. The death of his father has taken away Jamie's certainty and left him with a lot of fear. The book shows that problems can be complex and not easily solved, and that it takes strength to ask for help. Insightful and sensitive, this is a book that should be read widely.
Reviewed by Rachel le Rossignol