Aurore Petit, A Mother Is a House, Gecko Press, March 2021, 48 pp., RRP $27.99 (hbk), ISBN 9781776573233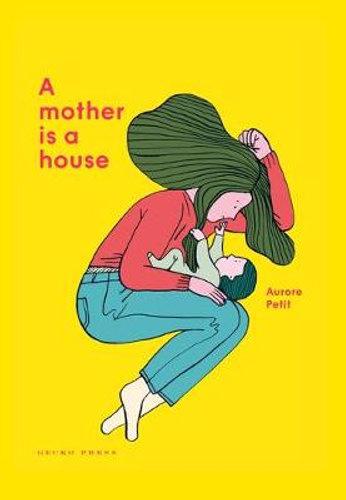 New Zealand company Gecko Press chooses high-quality children's books from around the world and publishes them in English. Their motto is "curiously good books", and this is most appropriate for this particular title.
A mother is a house was originally published in France as Une maman c'est comme une maison, which literally translates as "a mother is like a house" so there is a slight difference in the English version. Each page contains a simple sentence in fluoro pink on a band of white underneath a brightly-coloured illustration. There is rhyming in the text, but the repetition varies so, for instance, pages 2 and 3 rhyme, pages 4 and 6 rhyme and just when you think the text has settled into a neat 4-line rhyming pattern, it switches to a 6-line rhyme then back to four lines.
Each sentence contains a metaphor or description such as "a mother's an island" or "a mother is patient" and the accompanying illustration shows the domestic detail of a Mum and Dad coping with the joys and challenges of raising a child from birth to toddler. Examples include the "mother is a house" page showing a very pregnant lady, the "permanent fountain" page showing Mum breastfeeding and the "roof in the street" shows Mum and baby under an umbrella at a bus stop on a very rainy day.
This visually appealing book is probably best suited to preschoolers. The text may need explanation, but it is a great title for sharing with littlies with its vibrant colours and attractive design.
Reviewed by Lynne Babbage