Jessica Sizeland, Not Just a Knot!, Austin Macauley Publishers, November 2020, 30 pp., RRP $11.13 (pbk), ISBN 9781528991919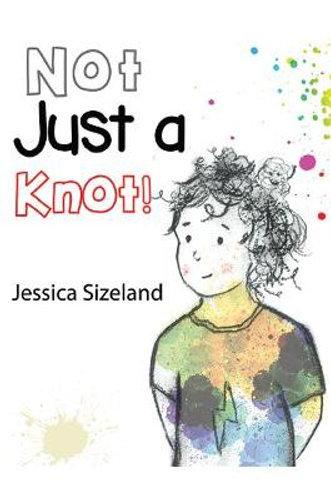 Not Just a Knot! is Jessica Sizeland's first picture book and is the realisation of her life-long dream after a career in early childhood education and bringing her own young children up. It tells the tale of a child with very messy hair who will not allow her exasperated mother to comb it out.

Love, come here, there's no need to wriggle, we will have those knots out in a jiggle!
Thanks anyway, Mum, but I'm all right, it'd be better if I was out of sight.

As the child continues to reject her mother's attempts at cajoling her into compliance, it is revealed that the child has in fact befriended a particularly persistent knot on the top of her head.

At last, her mother begins to understand that her child wants to spend quality time with her, to play together instead of the usual daily routine of duties and tasks that must be performed by a busy parent at home with young children. Her daughter's view is shared, as she explains how lonely she has been feeling whilst her mother busies about the house all day.
Finally, with a fresh understanding of each other, mother and daughter commit to a play date after the unruly hair is brushed and everything is smoothed out.

The simple verse is complemented by Sizeland's smudgy charcoal illustrations which depict a great deal of expression and a mischievous little knot perched atop the child's messy head of hair.

My children enjoyed this fun story of a familiar daily struggle and they loved the knot related twist at the end. As a parent, I could relate entirely to the need for finding time amidst the chaos of daily life and the all too easy misunderstandings that occur between adult and child.

This title would be a great way for educators and parents to consider and explore the real reasons behind children's exhibiting behaviours. As well as being very entertaining, this picture book acts as a reminder to adult readers to try and see things from a child's perspective, which I believe is the important take-home message in Jessica Sizeland's story.

Reviewed by Lisa Hoad