Allison Saft, A Far Wilder Magic, Hachette Children's Books, March 2022, 320 pp., RRP $17.99 (pbk), ISBN 9781250623652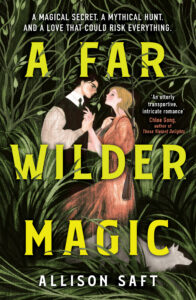 A Far Wilder Magic is the fantastical tale of outcast teens Maggie and Wes, navigating worldly hardships in their search for belonging.
Following the death of her brother and the mysterious disappearance of her mother, Maggie Welty is alone, broke, and lacking any sense of purpose. Her only hope is to enter the mythical Halfmoon Hunt and win the fame and riches promised to the victor. She can't enter alone however; she needs a trusty alchemist by her side.
An opportunity presents itself to Maggie when desperate alchemist Wes Winters knocks on her door, pleading for an apprenticeship so that he can support his family back home.
Driven by personal motives, Maggie and Wes band together to enter the Hunt and bring glory to their names in the face of religious prejudice.
In her novel, Allison Saft has created a rich, fantasy atmosphere teeming with romance and adventure. She has skilfully commented on topical issues such as religious and cultural discrimination through a coded, diverse character representation. Saft also focuses on the long lasting effects of parental neglect through the tender approach to Maggie's emotional trauma.
I was enthralled by the magical romance and enjoyed the action-packed Hunt, although I was slightly disappointed that it only began towards the very end of the novel. The alternating perspectives of the protagonists written in present tense was refreshing and made for a more immersive experience.
A Far Wilder Magic is a hopeful fantasy-romance, the perfect comfort read for high schoolers to curl up with as the winter weather looms.
Reviewed by Olivia Sammut