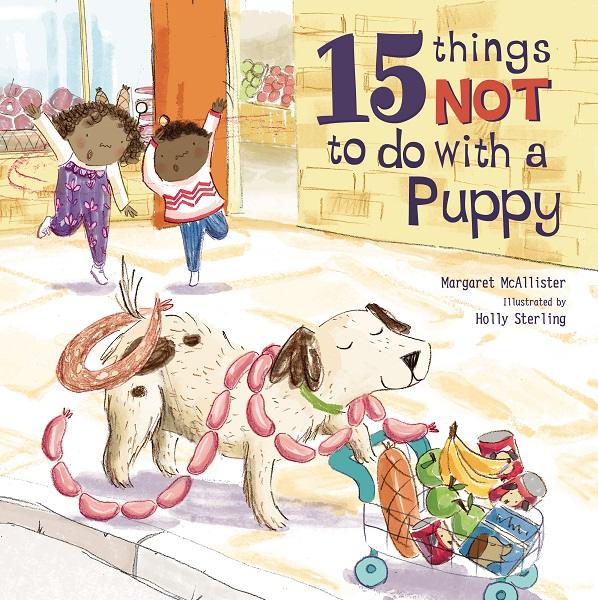 Margaret McAllister (text),  Holly Sterling (illus.), 15 Things Not To Do With A Puppy, Frances Lincoln Children's/Quarto UK, Feb 2018, 32pp., $21.99 (hbk),  ISBN: 9781786030474
Getting a puppy is the dream of many children, and in this delightful book two siblings are overjoyed by their new and very energetic family member. Children are often bombarded by rules in their lives, do this, don't do that, this book plays with this idea by listing the many things that the children should not do with their new puppy. But this isn't any ordinary list, instead making sure the children know not to teach the puppy to play the tuba or let him drive the car.
McAllister has found a highly entertaining way to tackle the issues and responsibilities of pet ownership. The looks of gleeful amusement on the faces of the siblings and the marvellous naughtiness of the puppy will definitely tickle readers, young and old.
Sterling's illustrations are bright and dynamic, full of movement and merriment. She includes charming details, such as the puppy watching a dog show when he gets control of the remote.
Teachers could use this book to discuss responsible pet ownership, or go a sillier route and use it to encourage students to add to the list of things you shouldn't let a puppy do. Think of the possibilities! I for one, think you should never let your puppy operate the ride-on mower.
Reviewed by Madeleine Crofts