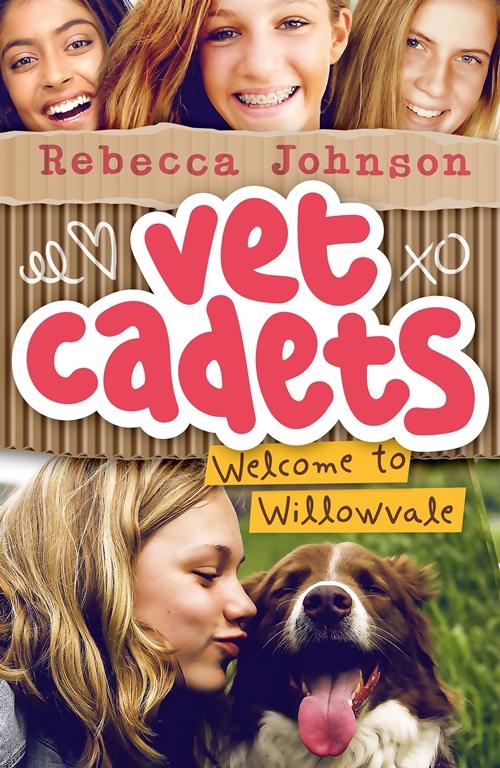 Rebecca Johnson, Welcome to Willowvale (Vet Cadets #1), Puffin,  1 May 2017, 192pp.,  $14.99 (pbk),  ISBN: 9780143782711
There's lots to love about this book, but I have to start with the cover, which right off the bat shows diversity in the main characters. Second, it's bringing science – veterinary science – to young girls and showing three smiling, excited girls to boot. I don't think we can underestimate what small things like this can mean to a young girl.
This is the first in a series, and starts on the very first day Abbey, Hannah and Talika arrive at Willowvale boarding school. They are all roommates, and Abbey notes they're the odd ones out, being three to a room. Immediately Johnson shows the girls with their families and highlights the differences between them: Abbey is the tomboy, while Hannah and Talika, by all appearances, come from well-to-do families, which leaves Abbey wondering about them and what they're like.
She is the de facto lead character in this book, and where she goes the others will follow. Despite appearances, Abbey realises that Talika and Hannah are nothing like their families, and each face their own insecurities and pressures. In that way at least, Hannah and Talika are the more relatable characters, I think, and readers are sure to find some comfort in seeing these girls deal with familiar pressures.
The progression of their friendship is fun – they bond over midnight snacks and school problems, like mean teachers (only just avoiding being a bully) and big sisters who are at the school too, and not at all sister-like. The girls lean on each other for support through some tough situations readers will understand and easily relate to. Johnson has taken care to show their relationships grow wonderfully, celebrating everything that makes them different and friends at the same time.
Besides the diversity and focus on female friendships, I loved the focus on veterinary science in this, and getting down and dirty when caring for the animals at the school. Abbey isn't afraid to get her hands dirty, so to speak, and gleefully leads the girls to collect parasites and bugs for one of their school projects. It does take awhile for the other two to get behind that particular passion, but they do come around. Even better is that at the core of the story, the girls use science to solve the mystery of what is attacking the school's sheep, and prove to the school and town authorities that they, the girls, were right all along.
Johnson has shown that young girls have a place in veterinary science, or any kind of science. Her characters are diverse and relatable and I am sure there will be more than one young girl loving this series.
Reviewed by Verushka Byrow